Welcome to the Sisterhood of Mother B Waypoints Podcast! We are excited to introduce you to the Sisterhood HQ members in the inaugural Waypoints episodes!  This is a podcast for you, so if you have suggestions, comments, or questions, post a comment on the podcast page, here on the SIG/SOMB webpage, or email us at sisterhoodofmotherb@gmail.com.
You can also subscribe via Apple Podcasts – click here
Thank you and Enjoy!
Waypoints Podcast Intro – Short intro to talk briefly about the Sisterhood, Mother B, and what we are doing.
Waypoints Episode 1 (click here) -In this first episode of the new Waypoints podcast, the official podcast of the Sisterhood of Mother B, Jenn and Jeannette, the podcast co-hosts, talk about their experiences as female USNA grads and Marine Corps pilots, and describe why the felt the need to be part of the Sisterhood of Mother B.
Waypoints Episode 2 (click here) – Our intro episodes consist of brief intro interviews with the members of the Sisterhood of Mother B, women from the great class of 1998 from the U.S. Naval Academy. In episode 2, Jenn and Jeannette interview Shannon about her experiences and what she has learned.
Waypoints Episode 3 (click here) – In Episode 3, we talk with Michele, fearless director of operations for the Sisterhood, to learn about her work and experiences. Have patience with us as we learn how to "do" podcasts! Flying helicopters was easier and still took us longer to learn…
Waypoints Episode 4 (click here) – Episode 4 features an interview with Kate, our resident Sisterhood twitter expert and all-around rock star. And check out the picture from '98's Plebe Summer book…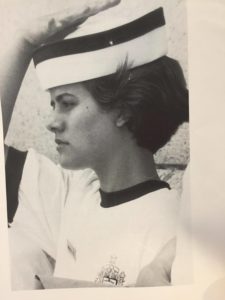 Waypoints Episode 5 (click here) – In episode 5 of Waypoints, the podcast of the Sisterhood of Mother B, Jenn and Jeannette interview Beth Ann, the 6th founding member of the Sisterhood. Episode 6, to be released soon, will feature the final Sisterhood member – Carrie Howe – before we move into the '80s ladies and some reader response episodes.
Waypoints Episode 6 (click here) – In episode 6 of Waypoints, Jenn and Jeannette interview their fellow Marine Corps helo pilot and USNA classmate Carrie Howe, the final member of the Sisterhood of Mother B! Join us as we talk to Carrie – and stay tuned for our first write-in episode in two weeks!
Waypoints Episode 7 (click here) – Stories from the edge of needing to go to the bathroom. We're trying something new – write-in episode #1 asked listeners to share stories about how they adapted and overcame the equipment and process failures that result when the "norm" or "average" user is expected to be a man. While the topic is funny, the outcomes aren't always. Expect write-in episodes to range from the hilarious to the painful – and to cover everything in between. Stay tuned and provide feedback! And next time – listen up for our first interview with the women of the 1980s.