Sisterhood of Mother B Callout for Articles
Wom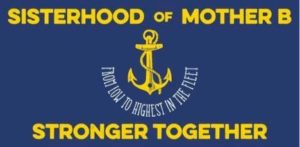 en of the Naval Academy, the Sisterhood of Mother B will be launching their website soon!! Our site will include articles and podcasts for the Sisterhood and by the Sisterhood. To get things going, this is a callout for articles in one of the following categories
"Look, mom, a girl one!!" – articles sharing the experiences and perspectives of being pointed out as different and how it affected you. This could also be related to conversations that start with "I would havenever guessed you went to USNA." "Oh, I thought you were a spouse." And other similar comments.
What does WUBA mean to you? Women of the Naval Academy have very diverse views of this word, and we want to hear your perspective.
Tales from the Dark Side. Are you part of a dual military family? Share with us a story that highlights the challenges of being a woman in a dual military relationship.
There I was – share with us a feature-length story telling us something wonderful or terrible about your experiences at the Naval Academy, in the Fleet or beyond. How did being a USNA graduate prepare you (or not) for that moment and what have you taken away from the experience?
Submission criteria:
What is it like to be a woman from the Naval Academy?: 500-1000 words
WUBA: 500-1500 words
Tales from the Dark Side: 500-1500 words
Ladies Choice: 1500-2500 words
All submissions will be edited for grammar, spelling, and clarity – editors will work closely with authors to ensure pieces are publication ready. There are no monetary prizes for publication.
Please send all submissions to sisterhoodofmotherb.editor@gmail.com.
Thank you!!
Shannon Martin
Chief Editor
The Sisterhood of Mother B