Transcript of Jeannette Haynie's Facebook Post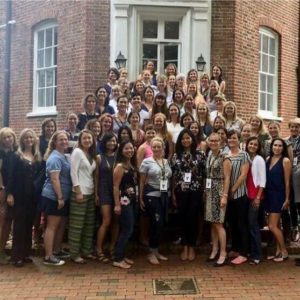 I posted a bunch of pictures from our 20th USNA reunion this past weekend, but I didn't post the most important one of all – a picture of the women of the class of 1998 (most of us, since we couldn't all make it to the reunion). This picture means a lot to me because of what it stands for and for how long it took me to realize what an opportunity we had and how much earlier we should have embraced it.
For four years by the bay, we didn't take pictures together as women – not like this. While we had our groups of friends, we didn't stick together as women of the class and didn't overtly build each other up in an environment when that kind of cohesion and strength/support in numbers was sorely needed. Maybe we didn't all need it, or didn't all need it all the time, but I know that I needed it, and the absence of that support and strength had negative, lasting effects throughout my career, often in ways that I am only beginning to understand. I didn't understand it then, and I was certainly part of the problem.
Instead, we survived in our smaller groups, and at times alone, what was in many ways a complex experience for us as women – and we did so with varying degrees of success, pain, and happiness. Sometimes surviving meant pushing each other away – something I was guilty of during those four years. The lessons I internalized during my USNA time held fast for my time in the Corps as well – I continued to push other women away, to think that supporting other women openly and positively would make me seem weak. It took me 23 years to realize how wrong I was, and unlearning that lesson has been one of the hardest yet most rewarding experiences of my adult life.
I realize that my experiences could be different from others in our class. But for me, this picture meant the world. It was the first time that I felt free to be me as a woman in the class of 1998, and while I wish I had figured that out 24 years ago, I'll take it now.
Transcript of Shannon Martin's Facebook Post
Susan Balcirak thanks for setting up the ladies brunch. I hope you know what you started. Jeannette Gaudry Haynie you have inspired me to share some thoughts on the Sisterhood of USNA '98. It is long, but totally worth it (pretty sure).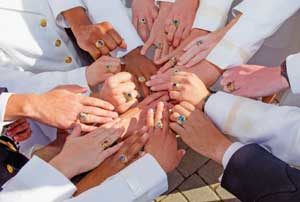 I recently spent a long weekend in Annapolis for my 20th reunion from the Naval Academy. I saw so many old friends and shipmates, lamented those who had not been able to make the trip due to work or family obligations (or perhaps because they did not miss us as much as we missed them), and mourned our fallen. The highlight of the weekend for me was a ladies brunch held on Saturday morning before the football game. Did I love it because the mimosas were served with just the right amount of orange juice (a splash) or because the quiche was perfectly cooked (I'm guessing. I didn't make it to the quiche)? While those things were quite wonderful, it was the first time I had spent time with just the ladies from my class, en masse, without worrying about what the guys would think – and my impression is that I am not alone.
We spent four years together by the shore where Severn meets the Bay and between five and twenty more (with many still on active duty) serving in the armed forces where, if the women were asked to gather together, there was a sense of dread that only a minority can feel in the group when they are singled out. Most of us were close at school with our individual groups of ladies. For me it was my roommates and company-mates, teammates from the Crew team, and the Women's Glee Club. And while I regularly defended my female classmates against derogatory remarks by our male classmates (as I hope and believe they did for me), I did not openly push for mentorship and solidarity with the women in my class or the classes around me. My transition was slow. As my leadership roles increased, I joined Women in Aviation International (WAI), participated in Joint Sea Service Leadership Symposiums which discussed women's issues in detail, and I tried to empower my sailors and junior officers to demand respect, inclusion, and equality for all regardless of gender. It has been a long road to accepting this role.
The brunch and the remarks of some fellow classmates reminded me of the story of ordering my class ring. When we were ordering our rings, the women had the choice of ordering a standard women's ring or a miniature ring. The miniature is normally bought as a gift for a fiancé or spouse, but can be worn by women graduates. I have small hands, and I wanted the miniature, I thought the standard ring was too much for my hand. The representative from Jostens, a woman, said something to me that day that has resonated. She told me that I was part of a very special group of people, women of the United States Naval Academy. There are so few of us in the grand scheme of things, and I should be proud to be from that sisterhood. Further, she told me that the only people who can wear the standard women's ring are women who attended the Naval Academy. The miniature can be worn by spouses and grads, and the men's ring was also available to purchase for spouses (though I have never encountered that particular situation). I was struggling with being a female midshipman and a female officer. I just wanted to be a midshipman, an officer – like everyone else. But the Josten's lady – she was celebrating me as a part of a special group of women. Somehow she understood what that ring and those women would mean to me some day. She convinced me to order the standard ring – and it is big and clunky, but I am glad.
So as I was drinking my champagne – I mean Mimosa – and catching up with my classmates, I was speaking with brand new Navy Captains, seasoned Commanders and Marine Lieutenant Colonels, and women who commanded ships and shore stations. I spoke with Apache pilots (yes, that is nearly the only reason to go Army), ladies who have flown for the President, business owners who are killing it, engineers, medical doctors, dentists, PhDs, lawyers, agents for the FBI and NCIS, professors, aspiring actors, farmers, program managers. I shared stories with mothers, ladies who wish to be mothers, and ladies who are glad they are not mothers. There were women who sing in rock bands or at church and women who play music so beautifully that you cry. They run triathlons and marathons. They run for political office. And finally, we were women who are not afraid to gather together, to be proud of one another, to celebrate our accomplishments in the military service and out of it, perhaps now ready as a group to ensure that today's female midshipmen don't have to wait twenty years to celebrate their sisterhood.
I did not wear my ring this weekend. I forgot. I rarely wear rings in general – too many years of climbing on aircraft and seeing safety articles with degloved fingers. However, I am so glad that the Josten's lady had the foresight to know how proud I would be to be a part of this wonderful sisterhood – the Alumnae of USNA '98.