by Kate McCreery Glynn, '98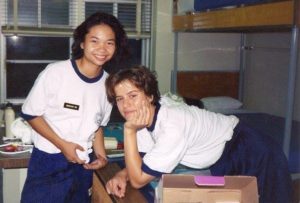 How many times have you heard some version of this? "You went to Annapolis?  What was it like?"
Do you have a pat reply?  "Challenging… Lots of engineering… I played rugby for a bit."   
The truth is, for me, it wasn't great.  The truth is, I spent a good portion of my time at USNA feeling lost and alone.  
When I showed up on I-day, I didn't know how to pledge allegiance to the flag. I almost failed chemistry.  I was the plebe who visited grandma over spring break because I didn't have any other plans; the second class who didn't get invited to the ring dance booze cruise.  It took until firstie year to find close girlfriends, and in the meantime I slept with people I shouldn't have out of the sheer ache to be desired. I'm still not sure what the line of scrimmage is.
"You went to Annapolis?  That's AMAZING!"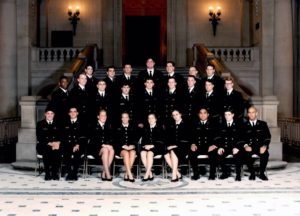 Nope. The truth is, it wasn't amazing. I wasn't amazing.   Parts of it were good:  a senior seminar on the Divine Comedy; the Messiah in the chapel; running the seawall.  But let's talk about flight school, the fleet, my kids, grad school, or work. I spent too much energy reinventing myself to talk about Annapolis.  "Great place to be from and terrible place to be, know what I mean?"  Cue sarcastic detachment a la head tilt and raised brow.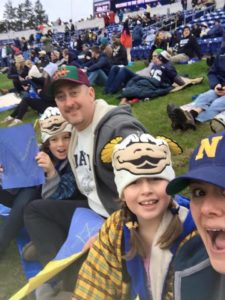 So no surprise, I almost didn't go to the 20th reunion.  I'd avoided the 5th (What if someone remembers that time . . . ?); the 10th (I'm not flying all the way from Texas to have a crappy weekend.); and the 15th (I'm in touch with everyone I want to be in touch with anyway). It was my darling husband (98-1) who gave me the push: Screw it babe, if it sucks you can just drive home.
Thank goddess he did, dear Sisters, because I found you there. Somewhere during those four years by the bay, I had convinced myself that every other member of Great 98 had found their tribe, and I alone had not; that your bond with each other was so tight that there was no room left for me.  But it turns out I wasn't alone in feeling alone. You were there with memories of ill-fitting uniforms, rained out parades, and boring classes. Some of you hated football too, and some of you did fail chemistry. We all saw the easy fraternity of our male classmates, and knew it would never be ours, no matter how much of a cool girl we tried to be.  We all had regrets about how we treated each other, wishes that we had reached out more, put down less, lent a hand more easily.  It turns out it took a nudge, a drive, a football game and a cocktail party to realize you were there all along: the didn't-ever-feel-quite-at-home-here-but-wasn't-about-to-admit-it tribe of USNA.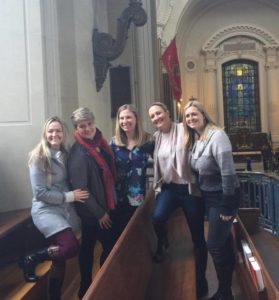 So here is to the Severn, the insecure plebers that we were, the Jamaican beef patty, and the women we have become.  You are my sisters, and I am so very glad you are.
Much love,
Kate