I hear Ship Selection has changed over the past 20 years.  These days, I understand it's an exciting event in Alumni Hall with a huge crowd, signs, your picture on a screen and a theme song as you walk on stage to choose your ship – and it's streamed live for family and friends to see worldwide.  But back in 1998, it was not quite as thrilling. I remember lining up by class rank somewhere on 3-0 and waiting to go into Smoke Hall. There was no way of knowing which ships would be left by the time you got there, maybe people passed information down the line like a game of telephone.  The only people I can remember in the room were the other mids near my class rank and some Surface Warfare Officers to congratulate us.
While these things have changed, one thing remains the same:  your first Divo tour can be exciting, difficult, and at times a bit scary.  We want you to know that hundreds of sisters have have gone before you to these billets, so the Sisterhood of Mother B called upon them to share some of their stories and words of wisdom:
From Christina J. Williams, '12: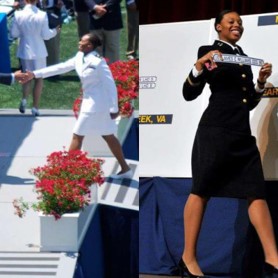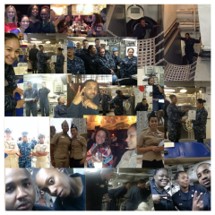 In January 2012, I was #280 of 280 to select my ship. Because I knew I was last, I ranked all of the ships in order of what I wanted. By the time I walked up and across the stage, almost all of the ships on my dream sheet had been chosen. I chose my 23rd choice, and selected a DDG out of Norfolk (the only homeport available). I was distraught and had tears in my eyes but I refused to let anyone see me upset. With everything I could muster, I put on my biggest smile and walked across the stage. I reported to my first ship in August of that year. I wanted anything but engineering, but the CO assigned me to the Engineering Department, Main Propulsion Division. To date, that division was my favorite division to lead. I learned a lot, I grew up, they challenged me and I challenged them. I loved Engineering and ultimately decided to select an engineering billet for my second DIVO tour as well. My words of wisdom: How you start does not dictate how you finish. I reported to my first ship 280 of 280, I left my last ship #1 of 48. Be humble, work hard, and learn your craft. My years as a SWO challenged and tested everything I had in me. However, I learned from being last that I had the drive and determination to finish anything I started.
From Sabrina Zerphy '90 (USS MT BAKER, 1991-1993):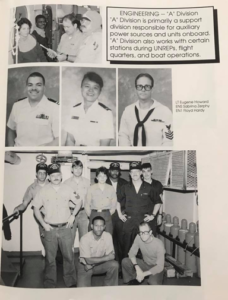 I chose the USS MT BAKER AE-34, an ammunition ship out of Charleston SC. This was prior to 1993 , but fleet auxiliaries; AE, AO, AFS had just been opened to women. My first Divo tour (appropriately) was as AUXO, auxiliaries officer in engineering. What was actually most memorable about that tour was my collateral duty as legal officer. In addition to captain's mast almost every week, I had the not infrequent court martials, Jagmans, NCIS investigations, and interactions at the city jail.  So… for 2019… hope you're not collateral duty legal officer!!
From Linda Postenreider '82: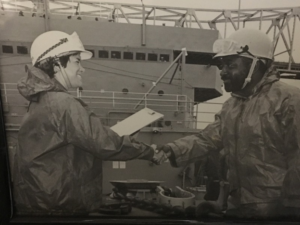 The list of ships was limited for the 6 for us who went SWO in the class of 1982.  I chose the USS Frank Cable (AS-40) out of Charleston, SC, because she was scheduled to transfer to a European port.  I loved my tour on the ship even though she stayed tied to the pier in Charleston. I prayed for hurricanes so we would get underway. My first job was Auxiliaries Division officer. I took over from a gal who was one of the first women in the Women on Ships program.  I shared the office with the other Engineering Divos, 2 Master Chiefs (B & E divisions) and 2 Warrant Officers (MPA & DCA). From there I went to 2nd Division, in charge of the 3 on-board cranes and ended my tour as Assistant 1st Lt.
My advice will always be to listen to your sailors and give your CPOs/senior enlisted as much respect and responsibility as possible.  They will take care of you if you take care of them.
My, how the Navy has changed!  Best of luck to those lucky SWOs going to sea with the class of 2019!
From Margaret (Morton) Jackson '10: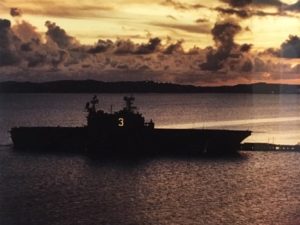 In 2010, our ship selection night still took place in Memorial Hall. I remember the room being packed with cheering friends and ship representatives, an atmosphere of nervous tension, but also celebration. I sat three rows back waiting anxiously for my turn, even though I already had an idea of what ship people ahead of me wanted, thanks to some ambitious classmates who canvassed all of us. When I got to the stage, I grabbed the last of two name plates for the newest destroyer out of Yokosuka, Japan, and I was thrilled. After studying in China for a semester, I knew I wanted to return to Asia and live in one of the most exciting and dynamic areas of the world. I knew the operational pace would be intense but I felt it would give me the necessary underway experience to be the best possible SWO. We all stressed a lot about which ship was the perfect choice, while forgetting the deployment schedules change and Captains turn over. In the end, the experience will be what you make of it, wherever you end up.
The rest of my firstie year was a whirlwind in the lead up to graduation. My first piece of advice is to enjoy that time while it lasts! The next few pieces of advice pertain the time leading up to and during the first few years as a Division Officer. When I showed up to my ship on the first day, I didn't know what uniform to wear, where or what time I needed to muster, or how properly to fold the sleeves of my Navy Working Uniform (we never wore them at the Academy). By the end of my first tour, I was the number one Ensign. In addition to my division, I held the collateral duties of Public Affairs Officer, Change of Command Coordinator, and Bull Ensign, and I qualified Command Duty Officer. My point is that I came a long way, but it's best to go in as prepared as possible!
Read. Remember that stack of books they handed you Plebe year? You probably never read them during Seamanship and Navigation class, but read them now! They will give you necessary context and foundational knowledge for your duties and responsibilities as a watchstander and Division Officer. Your Rules of the Road book should be worn thin and you should be familiar with them before stepping on board. When you get to the ship, seek out your ship specific publications, and most importantly, the Commanding Officer's Standing Orders. Your greatest asset will be your knowledge. Be the person who already knows the Conning Officer commands when you show up to your first watch.

Listen. Everyone will tell you to listen to your Chief. And they are right–the Senior Enlisted have the most combined experience and technical knowledge in the Fleet. However, in some cases you won't have a Chief or you will have others in the Division you must rely on. Talk to all of your Sailors. You be the judge of their performance and character and understand who you can trust and learn from. Finally, take the time you have before you leave USNA to seek out Senior Enlisted leaders. Listen to their stories and their advice. They can help prepare you now.
Empower. Your division is only as strong as the team. You must work to empower each member of the team to meet your mission. You will come across many leaders that micromanage, many times due to lack of trust of those working under them. Arm your Sailors with knowledge and the tools to build their confidence and help them recognize their potential. If you can achieve this, you will likely find this is the most rewarding part of your job.
Prioritize. Even if you are the most efficient time manager, you will never have enough time to get everything done. Remember that you need to be in good health, both physically and mentally to perform your best. Also keep in mind that being a good Division Officer is important, but so are your qualifications. When you choose your next ship and go to ranking boards, qualifications matter. Get qualified as soon as possible and always keep working towards the next step. Some Captains may not let you qualify Tactical Action Officer in your first tour, but it doesn't mean you shouldn't reach for the top and learn as much as you can to set you up for your next tour.

Volunteer. Raise your hand and take on responsibility. Sign up for watch stations during special evolutions, assist in special events, exchanges, or tours, and take on a collateral duty. Not only do you want to stay busy to pass the time, but each new task will require you to learn something new and will enrich your experience. If your ship is in a long maintenance period in your first year, ask to cross-deck and spend time on a ship at sea. While this doesn't sound fun, it will be one of the only times you have the ability to focus on learning with no other responsibilities. The only way to get better at your job is to do it–and as SWOs, our job is to be at sea.
Be proud to be a SWO. Of all your classmates, you are taking on the most responsibility right out of the gate. The next few years will be transformative and you will have incredible, life-changing experiences. The last thing I will say to my fellow women is know yourself. Know yourself and be honest with yourself. Too many times, I had male colleagues who told me the only reason I succeeded was due to my appearance and the fact I was a female. These words still sting when I think of them today. However, I know how hard I worked everyday to be the best officer for my Sailors. I am proud of what I accomplished. I surely made mistakes, as we all do, but I did my best. If you know you put in the work, then you deserve the recognition. Never let anyone take that away from you.
I hope to meet you in the Fleet. Fair winds and following seas!
From Lori Buresh '00: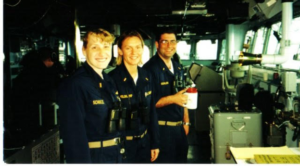 As a 2000 grad ship selection was almost 20 years ago.. Holy crap!

I decided to pick a ship based on these criteria: I went with the East Coast because I wanted to be closer to family (my parents were living in Delaware), I did NOT want Norfolk per se, I wanted a larger ship since my cruises were on a DDG and a CGN, I wanted a unique mission, and a ship with only 1 billet available so I could have a new start on my adventure post-USNA.  I chose LSD-51 USS OAK HILL out of Little Creek. It was everything I wanted. One of my friends, Kim Palmer, was much higher in class standing than me (I was about 435). She chose her ship and then would go between where I was at and the big board to tell me if my spot was still available. I was thrilled to get my ship.. It subsequently ran aground about a month after I chose it but.. you know. Things!
From our Sisterhood of Mother B Facebook Community:
My first ship – I honestly don't really remember my thought process but I chose the Iwo Jima out of Norfolk. I didn't report until two years after graduation because I went to grad school first. So I arrived as a JG with no qualification and was play "catch up" with my classmates. I was assigned to IC division first and then moved to Radio my second year. I stayed in the same department and had two female department heads that were amazing mentors. I loved my time on an Amphib and would choose it again. I've had the honor of running into some of my sailors years later after they've made chief.
– Danica Middlebrook '05
Regarding ship selection – DO YOUR RESEARCH!  Granted, much easier now than it was back then, but though a weird twist of fate I selected a ship in the yards, about to make a home port shift, with a CO I had as a mid – who made it pretty clear he didn't believe females belonged on his ship. Needless to say, that was a very long tour.
– Anonymous
I had orders to be the DCA, went to school to be the CICO, and ended up as NX DivO. Semper Gumby! – Barbara Ann '00
I went to an amphib out of little creek for several reasons, partly because family was on the east coast and there was a boy there when I picked. It worked out pretty well for me as admin and legal, but the ship itself was old and falling apart. I was on LSD 41. We called ourselves buoy 41. We came back from deployment by ourselves because nobody wanted to wait for us we were so broken
– Rebecca Sauls '02
I wanted a DDG in San Diego. There were two open slots for females, one on USS MILIUS (DDG 69) and one on USS DECATUR (DDG 73). In those days we had no access to schedules and most ships didn't have email, so it was luck of the draw in a lot of ways. I randomly picked MILIUS. I reported to the ship as Damage Control Assistant, in charge of Repair Division and combating fires, flooding, structural damage, etc. I had heard it was a difficult job and was really nervous about how it would turn out. I got to the ship and it turned out great! I loved my division, had friends in the Wardroom, had a great Chief and a good Department Head. I was a history major at USNA and got a B in SWO capstone of all things, so my professional self-confidence wasn't that high. Luckily I was surrounded by great people and ended up doing well. I ended up loving it so much I stayed on MILIUS to do my 2nd tour and am still a SWO. Good luck at ship selection and in the Fleet. Even if you don't get your first (or second) choice, it'll all work out in the end and you'll be where you're meant to be.
-CDR Mary Katey Hays '99
I chose the USS Blue Ridge (LCC-19) out of Yokosuka, Japan. Someone told me it had the most port calls and shortest deployments. I wish I could thank them. I went so many places that now people dream of going. In order that I loved my port calls: all around Australia, Singapore, Hong Kong, Bali, Kuala Lumpur, Cebu, all around Japan and all around Korea. Short vacations to Bangkok and Beijing. SWO was never my first choice but I had first choice of ships and I will never regret my decision.   -Karen Heine
I ship selected (in 1992) an AE out of Concord Naval Weapons Station in CA. At the time, women could only select from the ships with an asterisk next to the ship name (auxiliaries and the FST 's – training Frigates). I chose it primarily because I knew it would actually deploy as part of a Carrier Battle Group. I started out as Auxiliaries Officer and fleeted up to Navigator mid-tour. I made 2 deployments that first tour and never looked back.
I split-toured to a Spruance class DD as soon as they opened them to women and spent the rest of my career on ships that weren't available to me as a mid; culminating with 2 command tours at sea. We have come a long way in the SWO community since my ship selection.
-Kristen Stengel '92
As for me, I chose an amphib out of San Diego.  I had heard the West Coast Navy was more relaxed than the East Coast. I wanted an amphib because I did my cruises on amphibs and thought, with all the other unknowns, at least I'd know my way around.  I also wanted a larger crew because that meant more watch sections. I ended up as the P-2 Divo on the USS ESSEX (LHD-2), which meant I was in charge of half the steam plant. Although people actually felt sorry for me when I told them I was going to be in the Engineering Department, I loved it.  Engineers are the hardest working people on the ship; first to arrive, last to leave, and the ones you never see but they keep the ship going. There are surely things about that tour I'd rather forget, but the good outweighs the not-so-good. I remember Darron Lee, a '95 grad who helped me with my SWO qual.  I remember MM1 Scott and MMC DeLeon who trained me for my EOOW qual, and whenever I got a little too anxious about what was going on with the division, they'd simply say "Ma'am, we got it." I remember nights on the bridge with stars so bright and although I was tired to the bone, I knew I was so fortunate to be there.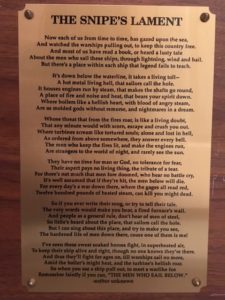 So, to our all of our 2019 Sisters, as you head out to your first adventures as a Junior Officer, know we have your back.  Those who have gone before you are just a Facebook message away.
Standing by.
Go Navy,
Michele Phillips '98
and the Sisterhood of Mother B