By Lee Anne (Hurley) Lorie '98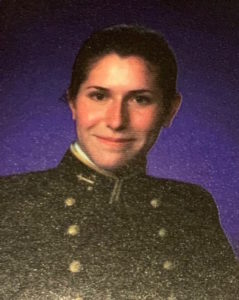 Like so many before me and so many after me, I stood in line on I-Day wondering what the future would hold for me. I was anxious, excited and a little scared. My name is Lee Anne Lorie. I entered the Academy on July 1, 1994 as Lee Anne Hurley, here is my story.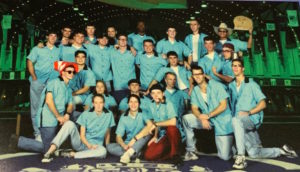 I'd like to think that I had the average midshipmen experience. I swam on the varsity swim team all four years and made amazing friends and had wonderful experiences with the team both on and off the yard. I was a mostly average student – I like to credit myself with helping support the top 50% of my class. I dabbled in the dark side and dated a classmate all 4 years.  We parted ways after graduation, both of us to go on and have our own families years later.
I chose a destroyer out of Japan on a whim – thought it would be fun to live in another country for a couple of years. My time in Japan was amazing.  I traveled all over the Pacific, something I likely wouldn't have done if I had been stationed in the continental U.S. I met my husband while I was stationed in Japan. He transferred back to Virginia, and I followed him shortly after to check aboard my second command. For my second tour, I was on an amphibious ship, which I chose specifically because of its deployment and port-call rotation.  After Sep 11, 2001, the ship accelerated our deployment which was already scheduled for mid Sep 2001. The awesome deployment/port-call plan went out the window, and I found myself on an amphibious ship loaded with marines, weapons and provisions headed to the unknown. I was 1 of 7 women on a ship of nearly 1000 and for the first time in my life, I really understood what it meant to be a minority. While headed across the pond, I experienced sexual harassment and an invasion of my privacy. Not gonna lie, that experience was scary, but it taught me that it doesn't matter who you are or what rank you are – everyone deserves respect and should be treated in a manner of decency.  I knew after that experience that I would always stand up for myself and anyone around me. It reenforced that I have a line, and I don't care who you are, you may not cross it. My deployment ended, we came home after 8 ½ months in the Gulf, and I transferred to my shore tour to finish out my Naval career. My husband and I were married in October of 2002, and we both finished our shore tours in the Norfolk, VA area before leaving for future civilian careers.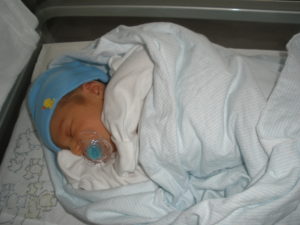 In November of 2006, we welcomed our daughter into our family, which was one of the most wonderful days of my life. In September of 2010 we welcomed our son, which was another of the most wonderful days of my life. There are events in your life that you will remember forever. Some because they are so very wonderful and some because they are so very horrible.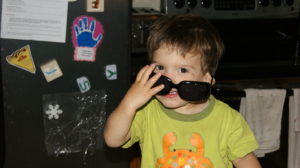 April 6th, 2013 was one of those horrible days. Our son, Andrew, was 2 years old and had been off balance for the past 24 hours, so we took him to the doctor to see what was going on. The doctor couldn't find anything, so we were sent for an MRI. The MRI revealed that our toddler had an inoperable brain tumor. In fact, he had the worst, most rare and lethal kind of brain cancer known to children. Most die in six to nine months from diagnosis and only one percent live longer. Being in the room when someone explains that your child now has an expiration date and there is nothing that anyone on earth can do to save him is one of the worst horror shows one can sit through.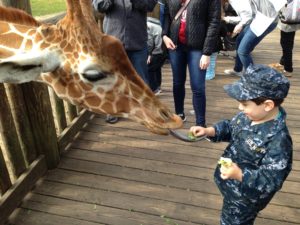 In the days following that MRI, we watched our son – this vivacious young boy – become completely paralyzed on the left side. He no longer smiled or laughed. He couldn't walk or sit on his own as he had lost all trunk control. It was horrible. We started the recommended treatment protocol, which at the time was only radiation. It was done on a palliative care basis – not to heal but to merely extend life to try and achieve that 12 month mark. For those interested, this still is the treatment regimen, and has been for the past 50 years. To our great surprise, Andrew made a miraculous recovery. In a matter of days from starting radiation, he was able to walk again, then run and then climb. To say that the doctors and nurses were amazed would be an understatement. To our even greater surprise his tumor had shrunk. It wasn't gone, but it was much much smaller and for us, that felt great. They had only given us six weeks, but those 6 weeks turned in to 6 months, then a year, then two and then three. Andrew had not only survived, he was thriving. He had a normal childhood and had learned to ride a bike, swim, skateboard, read, add, play baseball, play lacrosse and so much more – he was amazing.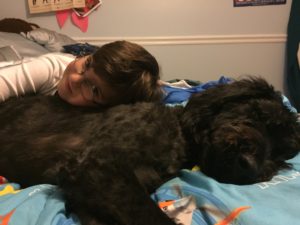 In December 2016, during a routine MRI (we did them every three to four months) we were told that his once stable tumor was again growing. This news was devastating. There were no symptoms, so how could this be? We again were told there was nothing to do but radiation – so that's what we did. We were also told that he was a true recurrence, and that those kids would die rapidly. We shouldn't expect him to make it a month. As we went through our second round of radiation with our now six year old, we searched the globe for any treatment plan that could offer hope. Our search brought us to Mexico.
Treatments in Mexico are experimental and are very costly as it's all out of pocket. There was not only the cost of the treatments themselves, which were in the tens of thousands of dollars but there were travel expenses and lodging expenses. We cried out for help to anyone who would listen to our plea. Among those who came to our rescue were my Navy family.  People I knew decades ago surfaced to stand by us. They donated money – so much money – and made treatment in Mexico for my son possible. We had hope again and for a short while, could breath a little easier. We traveled back and forth to Mexico nearly ten times for treatment from June 2017 through January 2018. By all accounts Andrew should have died in Feb 2017 – at least that's what the experts told us.
Tragically, our son lost his battle on February 2, 2018. For the rest of my life, I will never forget that day. It changed me, and I know that it will continue to change me. In the days following his death, I saw for the first time with such clarity how those bonds that I had formed so many years earlier would show their true form. Those friends I had made – my sisters – came to my rescue and showed so much love and compassion for my family.  In my days of crying and misery, I received an email from one of my Mother B sisters with a link to a YouTube video. I activated the link and saw these amazing women that I have the great privilege of calling my friends on the video. Each one told me that they were there for me and they were praying and thinking of my family. After each message were pictures of our time together with so many smiles and memories. I cried as I watched this beautiful tribute that my friends – my sisters – had made for me.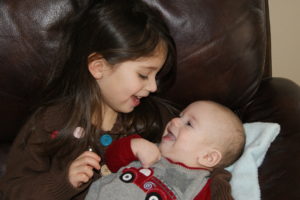 The next day my daughter received a package in the mail – it was a craft box. The note in the box was from these same amazing women. It told my daughter that her mommy's friends were thinking of her, that they knew that she was going through difficult times as well and that every month from that month forward for a year, she would receive another craft box so that she and I would have something to do together. These amazing women – they loved and cared for my daughter, too. At this point more crying ensued. Not even two hours later, my husband brought in the mail. I opened a card and inside it was a condolence card that was hand signed by each of these ladies. These ladies who spanned the United States – all of them in different places and time zones –  had managed to mail a card around so that they could all write in it, sign it, and send it to me. As if that wasn't enough, they raised money to go towards a foundation that we set up in Andrew's name. The day for Andrew's funeral came, and as I stood in that horrible receiving line that no mommy should have to stand in – I looked up and was embraced by another Mother B sister who had flown across the country to be there for me, simply offering a hug. To know that there are people out there who care for you in this way is humbling beyond words.
As I look back at that 18 year old that stood in that line on I-Day, I had no idea that the bonds that I would make over the course of my four years there would play such a role so many years later. To me, being a Sister of Mother B is more than just being part of some "club".  It's not just being an Alumni – it is knowing that even in one's darkest hour, when all you can think of is your own pain and sorrow – you know there are ladies that love you and will be there to help lift you up when you no longer wish to stand. They are there to cheer you on and cry with you, to check on you and make sure you are alright enough to make it through another day. They are heroes to so many, including me. To all of you wonderful sisters – I love you all – thank you for being you.
Lee Anne and her family continue to support families sharing the devastation of DIPG (Diffuse Intrinsic Pontine Glioma) through the Andrew's Army Foundation, which raises money to support scholarships for the siblings of victims of DIPG.  To donate to the foundation, please use PayPal at Andrews-Army@outlook.com. The foundation is in the process of obtaining 501(c)3 Non-profit status and is currently working on a website to help further raise awareness of DIPG and the foundations events.  Please continue to support and advocate for pediatric cancer research.