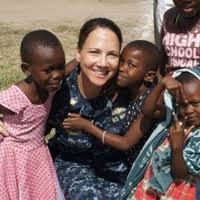 By Suzanna Brugler '98
Recently two of my Naval Academy classmates and I got together for Sunday brunch to discuss projects we each had been working on. One friend, a chef and food blogger, was on a journey to visit all 50 states couch surfing, offering home cooked meals in exchange for his bed. The other, a naval aviator, was working to formalize a program he helped design that broke down cultural barriers at work. And I recently had published an article focused on women warriors in the Navy's professional magazine called Proceedings.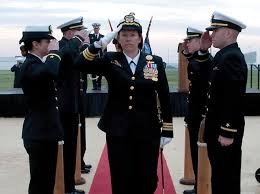 My article was a rebuttal to another article written by former Virginia Senator and Secretary of the Navy James Webb.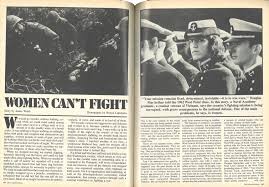 "Women Can't Fight," appeared in Washingtonian magazine nearly 40 years earlier. A fellow graduate, Webb had served as a decorated Marine during the Vietnam War where he sustained injuries and later was medically retired. He was an instructor at the Naval Academy when the first class ever to have women was completing their senior year. "Women Can't Fight" was an acerbic testimonial as to why women should never have been allowed to attend the military service academies. According to Webb, women had no place competing with men for academy appointments, and upon graduation, they most certainly were not fit to lead men in combat.
This same argument concerning women in combat resurfaced about a year ago when Webb was nominated to receive the coveted Distinguished Graduate award, much to the dismay of the pioneering women in the class of 1980. Webb not only ridiculed them, but he marginalized their very existence at the service academies, which many of their fellow male midshipmen rallied behind. Striking a nerve, that same argument died hard — at least at the Naval Academy it did — where as a midshipman 20 years later, even I fell victim to the misogyny it inspired because it still influenced attitudes toward women in the counterculture among male midshipmen.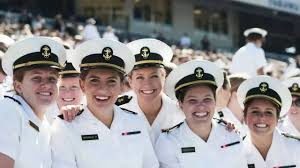 And so, when last year my (much) younger sponsor sister, then a sophomore at the Naval Academy, told me Webb's article was again circulating among the midshipmen, I was shocked. Conversations were validating Webb's arguments, and even she herself, a capable and self-possessed prior enlisted Sailor, was considering some of his arguments. I knew right then and there that the madness had to stop. Whether we had received credit or not, throughout the course of history, women had served in nearly every role in the U.S. military, and we had just started to rightly earn access to all positions of leadership, including those in infantry combat. My article, "She's a Warrior," was my manifesto of what, as a military woman, I knew to be true.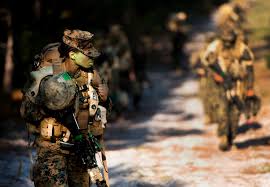 Yes, this was the year 2017, and although we had come a long way since 1979, I couldn't bear the thought that women midshipmen might still have to suffer the same prejudices and biases that I had endured 20 years earlier. I just couldn't conceive of it. Something had to change, and I knew I couldn't just sit back and not say anything. The idea that women had not been serving in significant roles, shoulder to shoulder, with our male counterparts – often times doing a better job at it – was just plain absurd. I knew then, like I know now, military women are, and always have been, combat warriors. We have challenged and redefined the notion of what it is to be a combat leader, and it's about time that we are recognized for our contribution to the lethality of our fighting forces – officers and enlisted. We have to own it and embrace it and be unafraid in calling it out – even if traditional societal culture doesn't see us that way.
After my article was published, believe me, I had many critics. How dare I call out a decorated combat war hero and suggest that he was wrong? People either disagreed with my confidence in women's capability to lead in combat, or they wondered why now I was perhaps overstating the obvious. Through it all, I know that standing up for what I believe is right was simply what I had to do, if not to counter Mr. Webb, who by the way never publicly admitted that he was wrong about women attending the service academies, then to set the record straight on behalf of my younger sponsor sister and her fellow midshipmen – both women and men.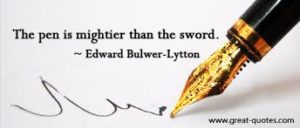 Back at our Sunday brunch, my classmate who was the traveling chef, told me that he had worked as a staffer on Webb's Senate campaign. His very first day on the job, Mr. Webb called him into his office and, knowing my friend was a writer-blogger, warned him – be very careful about what you choose to write and publish, because over time, the written word can come back to haunt you. The pen really is mightier than the sword, and the truth reveals itself over time. And self-inflicted wounds can be just as damaging.
Thus goes the story of Davida vs. Goliath.
**photos thanks to USNI, Legion.org, USNA**