by Kate McCreery Glynn
"I am Admiral Rob Bauer from Amsterdam Netherlands . . . can I know you?" The admiral had just followed the Sisterhood's Twitter account, and reached out by direct message (DM).
I'm enough of a skeptic that my next stop was Google. Yup, he exists. Yup, here's his bio. Yup, he has been part of the UN peace keeping forces as he claims. Seems… Legit?
If you're a woman on social media, you can probably guess the conflicting thoughts knocking around my skull at that moment. Is this a legitimate request to connect professionally? He had liked a few of the #sisterhood's posts celebrating the accomplishment of women in uniform. We were here to make connections and spread the word about the #sisterhood—was this an opportunity?
Is this yahoo about to send me a dick pic?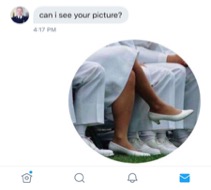 "can i see your picture?"
Dammit. But maybe he's trying to make sure this account isn't a bot? Maybe there's a language barrier and I'm misinterpreting?
I replied with the #sisterhood's profile picture. I asked how many women serve in the Armed Forces of the Netherlands.
"Why do you want to know?"
Should I have cut communications right then?
According Amnesty International's Troll Patrol project (1), Twitter is a particularly problematic milieu for women: 7.1% of all messages sent to female accounts are abusive or problematic. The numbers are far worse for female public figures, and particularly women of color. Fully 10% of messages directed African American women come from trolls. African American women are 84%, Asian women 70%, more likely to be subjected to online abuse than their white peers.
When my husband self-published his first novel last year, the advice he got was to mount a robust social media campaign: it's not an option, marketing professionals explained, it's a must. Can you imagine a candidate for office not having a presence online, or a nonprofit trying to fundraise without Twitter, Instagram and Facebook?
So too for the Sisterhood of Mother B: raising awareness of military women's issues and triumphs is part of the mission; social media isn't an option, it's a must.

Should I have cut off communication? Yup. This person was not interested in the #sisterhood. He was not interested in making my acquaintance as a fellow member of the sea service. This person was interested in what I look like. Gross. Thankfully, my personal information was never exposed, and I never felt in danger. Just, gross.
Not every woman online is so lucky.
In March 2018, Medium reported that women campaigning to have Jane Austin placed on the British ten pound note were repeatedly subjected to online threats of rape (2). In 2015, feminist activist and author Lindy West wrote an account of confronting a particularly awful troll who established a fake account using her deceased father's name and likeness to attack her online (3). It's naïve to think that the threat of violence stays securely in the 'just pretend' of cyber space.
A prolific writer and policy badass, our very own Jeanette Gaudry Haynie, was familiar with online trolls by the time she published Why #Metoo Matters For the Marine Corps on Task and Purpose (4). She wasn't surprised when "eric stratton iii" popped up in the comments section either—this particular troll had had graced comment sections with screed about pretty much everything Netty had published for the past three years. Anonymous, presumably male, commenters bantered back and forth, questioning Netty's qualifications, and wondering to each other why she hated men, and why she wanted to destroy the Marine Corps. Sadly, pretty standard. But this time, eric Strat iii went further. He "dug up an old CV of mine from my first few years [in my PhD program]… He picked this particular one because it had my home address, cell #, and email address on it… Most afternoons, my oldest got home alone before I came home and let her self in… So that scared the hell out of me."
So what's a woman online to do? The advice is often don't feed the trolls, and just ignore the weirdoes.
Let's hold on for a just a second (or Wacht even! as our 'Dutch Admiral' friend might say).
In some cases, inaction is simply not an option: it took considerable effort before Netty's personal details were purged from the comments section. But even in my much less severe situation, the instinct to ignore – to turn the other cheek – is problematic.
"i asked for your pic"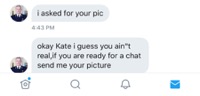 With those words, this man was not only confirming that I would be judged by my physical appearance, he was also asserting his right to judge me thus. He isn't alone in this assertion – not by a long shot. Plenty of men (and women for that matter) feel the God-given right to judge everyone from Serena Williams to Michelle Obama to Sarah Sanders by their looks.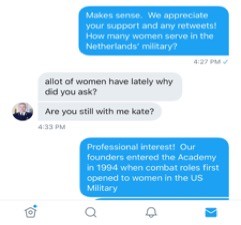 Is the expectation for women to just ignore it? That is firmly rooted in the expectation for women to be nice – to be silent to their own discomfort lest they upset the proverbial applecart and "cause a scene." I fell into that habit in my interaction with the supposed Dutch Admiral, politely, calmly, trying to steer the conversation back to professional grounds.
So no. I did not ignore it. I did not turn the other cheek. I reported this account, which, upon closer inspection, was clearly not the real Admiral Bauer, and then signed off.
I don't have answers for what to do about harassment online.
Certainly, it makes sense to enact laws to make trolls and stalkers easier to shut down. Platforms like Twitter and Facebook (and comments moderators on Task and Purpose) should take a more active roll. For sure, men should stop asserting their rights to women's physical being, and learn to police each other.
I'm still on social media, both in a personal capacity and as the Twitter keeper for the Sisterhood of Mother B. I'm also still trying to figure out how to get in touch with the real Admiral Bauer, to let him know some creep is impersonating him online. . . Be safe out their sisters.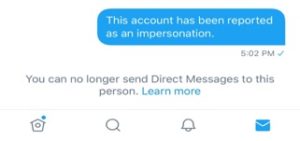 https://decoders.amnesty.org/projects/troll-patrol
https://medium.com/@jamie.bartlett/the-trolling-and-abuse-of-women-rooted-in-online-cultures-667a54d4f88d
https://www.theguardian.com/society/2015/feb/02/what-happened-confronted-cruellest-troll-lindy-west
https://taskandpurpose.com/metoo-matters-marine-corps?fbclid=IwAR2dMcurlCI28GwEUrp3rnduhbOGZxe_R_hnbCLIycjnV4T9FLlVH5Dj5NE