(How I Managed a Torn ACL, my Love of Dentistry and a Marine)
By Rachelle Nowlin '92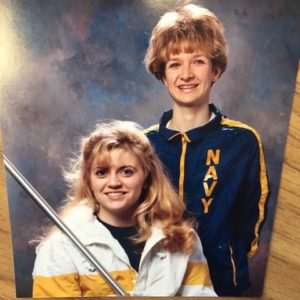 So, my household goods and I have moved every leap year. It seems every other tour took me overseas or home from there, so my furniture has been to four Olympics while I watch the Games from folding lawn chairs in echoingly empty rooms. In the summer of '92, after a fantastic 45 days of Cox Fund madness in Spain, I nursed my second ACL reconstruction. Delaying flight school (I selected NFO) was a great thing – I got to help Carla Criste and Karen Boyle coach the track team. On to Pensacola, joining 300 of my closest friends in waiting for $$ to drop so that we could fly for one week and sit around in the Ensign Pool for months in between.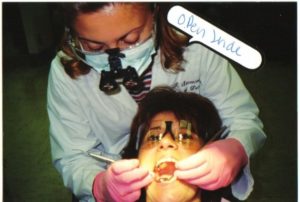 Turns out I loved flight school, but wasn't so great at flying. A third ACL tear on the same knee landed me back on injured reserve, thus the brown shoes and I made a clean break. What to do with my life, now?  I was shooting the bull with one of our fixed-wing instructors one day while sitting on phone watch at the training wing office. He was stressing his MCAT exams, hoping to become a doctor. Seems there was a neat pathway from active duty to medical school. What the heck?  I checked out the literature and made a phone call or two, and, lo and behold, while Atlanta got ready for the XXVI Olympiad, I was packing for the University of Florida College of Dentistry.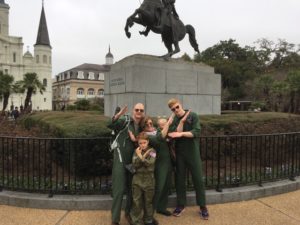 Gator Nation. Danny Weurffel won the Heisman while I was dissecting cadavers and carving wax bicuspids. The Health Professions Scholarship Program is one of the best deals in the military. I loved my time at UF, and I loved my new profession. The fact that I got to go back to the Navy and take care of my friends was an added bonus. From Gainesville, I spent a year at NAS Fallon, NV. I dubbed my clinic "Top Gums."  I took a hot-fill billet at Naval Hospital Okinawa- best job I've ever had. In '04 it was on to New Orleans, Louisiana, where I fell in love – with a city and a cute Marine. We weathered Katrina and decided to make the Big Easy our forever home. I decided to separate and open a private practice on St. Charles Avenue. But fate and the DoD had other plans.
They BRAC'ed MARFORRES and NAVRES, and my husband's billet evaporated. The Marine Corps always equals at least one set of orders to Okinawa, so I packed once again for the overseas PCS, this time as a dependent spouse. UGH. I wasn't ready to quit dentistry for 3 years, so I looked into GS options – nada. My Navy recruiter lost a bunch of my applications, and the Air Force guy was much more squared away (GASP!)  So as we unpacked the household goods, I found myself at Kadena Air Force Base Exchange shopping for a TV to watch the Games in London. I also had to pick up some pickles and ice cream, as we discovered we were pregnant before we were out of Temporary Lodging.  The Dental Squadron Commander was rather surprised to see a new officer who wasn't in the possession of a single uniform item (let alone the maternity version) and hadn't been to Commissioned Officer Training (COT) –  that's Officer Indoctrination School (OIS), in Air Force-ese.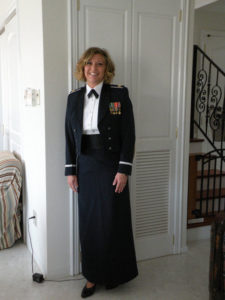 We figured it out, and I've been an Air Force Dentist who's generally known as "the laughing blonde one who has wacky ideas."  From Oki, we really thought I'd just hang up the boots, but they offered us joint assignments at MacDill AFB. I happily went back to Florida to reconnect with dental school friends. After a tour near old friends, it was inevitable that the detailers collaborated on twilight assignments to make us completely insane – The Pentagon.  Now, here I sit smack in the thick of it, 21 years active service from the gal who figured she'd do only the payback commitment as an NFO, and then pull chocks. I'm planning a retirement ceremony for 32 years to the day that I recited my first oath of office. Most assuredly it will be sweaty and bright there on Stribling Walk. I'll be missing my dad, who loved Annapolis and consistently (to my chagrin) wore reg PT gear to run inner perimeters when he visited.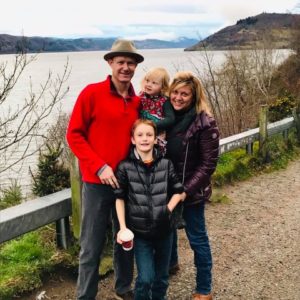 But my amazing mom will be there, standing beside my best friend (who I was lucky enough to marry) and my two incredible kiddos. My "brothers" from 29th company and the track team will show up for the free food and beverages. Coolest of all is that the ladies I consider family will be there, too. Love to the '92 Sisterhood. I'm forever blessed to have you as friends.