by Captain David S. Forman, '98
(As published in SHIPMATE March 2019, pg17)
"You've been shot by a girl!" rang out in the submarine control room after we heard a woman's voice on the underwater telephone call out the codeword for "I just shot a torpedo" during a submarine versus submarine exercise with the Australians. I was a junior officer, and the Officer of the Deck was quite embarrassed.
Years later, as a department head, my wardroom discussed women eventually joining the U.S. submarine force. I childishly stated to my fellow officers, "The day women join the submarine force is the day I get out of the Navy."
Well, thankfully, women joined the submarine force, and I'm still in the Navy. In fact, when I received orders to command ALASKA (BLUE), I was disappointed I would not have the opportunity to serve with an integrated crew. What changed my mind? The Naval Academy did.
After my department head tour I became the Flag Secretary for the Superintendent. In preparation for follow-on orders as executive officer, when I could have been assigned to an integrated crew, I listened to senior female Academy leaders and attended several symposiums about women in the Navy. I came to fully appreciate what women offered and better understood the Navy from their point of view. That education mattered.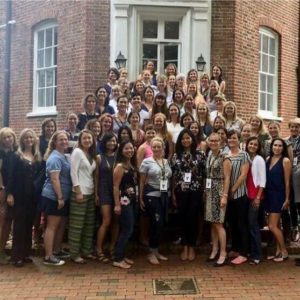 Fast-forward to our 20th reunion. Classmate Susan Balcirak '98 ask for my help adding a women's brunch to our reunion itinerary. As class president, I was happy to help, and the event was an overwhelming success. By reconnecting as a group, '98 women felt a synergy that none anticipated.
Their inspiration to continue to support each other and other women associated with USNA led them to create "The Sisterhood of Mother B." They will be thought leaders for women in military through blogs, podcasts, social media and outreach events.
The need for such a group is clearer than ever. The Navy is competing for talent against myriad forces, and we need every capable sailor and officer we can get. Despite how far we've come on many equality fronts, we are not done yet.
As one example, a female colleague of mine is an essential contributor to a national security project. While working with her in the Pentagon, I noticed that she had two pair of shoes…one for walking at a hurried pace (like we usually do in that building), and another for the actual meeting. It's a small anecdote, but she's not the only woman who does that. Something is not right if men get by in the workplace with one pair and women need two.
Between two pairs of shoes, along with my more than 20 years of submarine service, I know first-hand that good people matter. The only way we'll maintain a preeminent Naval Academy and Navy/Marine Corps team is to support and develop the few people who are qualified and agree to serve. I'm honored to call myself a classmate of the amazing women who started "The Sisterhood of Mother B" who will help do exactly that.