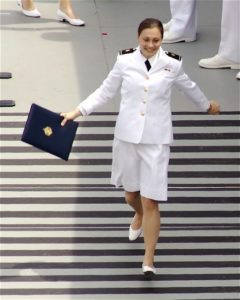 by Jillian Danback McGhan '06
Culture is a pervasive, powerful force in organizations that can divide or unify. It is undeniably amorphous, but no less real than other more visible factors.
Which brings me to ballroom dancing.
Allow me to explain.
On a slow work day, my colleagues and I struck up a conversation about talents we wish we had. A few of my co-workers agreed upon ballroom dancing.
"How elegant would it be to just glide through a crowd like that," sighed Emily,visions of full gowns and gentlemen in sashes reflecting in her eyes.
"Ugh, they made us ballroom dance in college" And by college, I meant the US Naval Academy.
"Did they? Oh my gosh, that must've been great! Did you dress up?" Laura squealed in enthusiasm, practically conjuring beaded bodices and glittering jewelry.
I paused to consider the compulsory Plebe year PT uniform: the blue rim t-shirt made of pitted, cheap cotton that was too short in the torso and too tight in the arms; blue, knee length mesh shorts with a weak elastic waistband that lacked any discernible crotch; white tube socks pulled up to the mid-calf; and white trainers with large, stiff laces that formed awkward loops.
"No."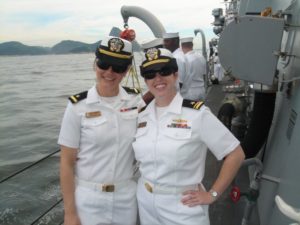 "Wait, aren't there only, like, five women who go to the academy every year? You got to dance with all those men?" Emily asked, no doubt imagining tall, strapping men in dress whites bowing low before taking my hand and whisking me around a marble floor. I barely had the heart to tell her we practiced in an old gymnasium with faded basketball court lines.
"Well, yeah, that was the problem." I replied, shuddering as I recalled the rows of clammy palmed guys either squeezing the blood from my hand out of nervousness or taking such a loose grip I thought I was holding a dead rodent. The best dance partners would make a joke about the absurdity of the situation and just avoid talking. Others would let a hostile awkwardness sink between us.  One partner avoided eye contact throughout our sad attempt at the foxtrot, lest looking directly into the eyes of a female Mid turn him to stone. An odious, and thankfully few, attempts at lascivious or insulting comment commentary were met with vicious retort. Few of us female Mids were in any mood for that, conscripted dance dummies or not.
"I will rip your arm off and work my way through the rest of your limbs," I recall hearing my roommate threaten one particular partner after he made an indecent proposition. Jane Austen certainly never wrote that into her dance scenes, but I'd like to think she'd approve.
The jarring recollection of this bizarre chapter in Academy life seemed so strange that I started to believe that I imagined the whole episode: lining up early on a Saturday morning, our shorts hiked up to our rib cages, to do the waltz and cha cha under the disapproving glare of our (possibly hungover) company officers and two overly enthusiastic dance instructors who would always cheerily encourage us to "limber up before you step it out". Well-intentioned or not, I still possessed the strong urge to hit them both over the head. And while there were a few more than five women in our class as Emily suggested, we were outnumbered by about 15:1. Which meant we had to dance with them. All. Of. Them. A literal battalion of men.
Later that evening, I texted several of the women from my company to confirm these memories. Their responses arrived in quick succession:
"Ugh… what made you think of that?"
"Yeah! So awkward!"
"Remember when I told that guy I'd rip his arm off :)"
I breathed a momentary sigh of relief that I was not, in fact, losing my grip on reality. Yet that relief was quickly overcome by angry incredulity. Who on earth thought this was a good idea? Were we preparing to welcome the second coming of Napoleon with a soiree?
In 2002, when the great class of 2006 was plebes, ballroom dancing was one part of our larger etiquette-training curriculum. Many a pre-liberty weekend hour was dedicated to the intricacies of stationary font and embossing, which fork to use at formal dinners, and what titles to use for high-ranking military and civilian officials, foreign diplomats, politicians, and orthodox shamans. In retrospect, as much as we groaned at the prospect of attending these sessions, many demonstrated their value as our careers progressed. After all, the military is perhaps the world's last true social equalizer, and these skills offered a type of privileged pragmatic value. Many of my classmates later admitted their appreciation for these sessions years later. But… ballroom dancing? Even John Paul Jones rolled his eyes in his crypt.
For added context, we were plebe ballroom dancers barely a full year after the events of 9/11. The nature of warfare itself was evolving, and the intersection of culture and combat in brighter relief than ever before. This desperate attempt to cling to the last anachronistic vestiges of "what it meant to be an officer" was as wasteful as it was impractical. Not to mention that the dated, platonic ideal of a Naval officer we were instructed to replicate was, highly problematic. By being relegated to the ranks of dancing partner, the women in my class were rewarded for their passivity.  We were being "good sports", per our instructors' compliments, acting as props for our male counterparts' edification. This sent the message, however subtle, that their learning was prioritized over ours. We were being trained to enter a world where men led on the dance floor, and everywhere else, and our most valuable contribution was to be a good sport and accept the next sweaty hand extended in our direction.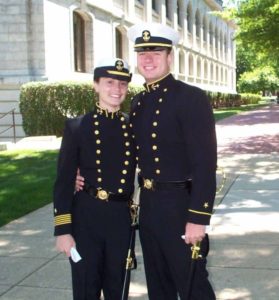 To their credit, nearly all the men I spoke with on the topic found ballroom dancing as ridiculous as we did. These men resented that they were the inadvertent instruments of our embarrassment. Some even admitted feeling helpless to do anything that improved the situation: hence, the feeble attempts at humor we were not in the mood to accept. One classmate mentioned a time he started dancing with his roommate as a joke, to be instantly shut down by a hovering company officer. A male-male coupling in 2002, even in jest, was no joking matter: many a career- and many a life- was ruined over it. Besides, this was supposed to be our professional education. As he chagrinned, "Ballroom dancing was a serious business."
Even as Plebes, we intuitively recognized this focus on etiquette as a faultline in the Navy's culture and responded with our only weapon against authority: mockery.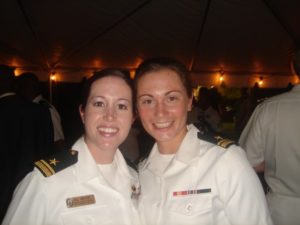 What my classmates and I observed in these lesson was an organization standing at the precipice of cultural change. Over the next few years, our class would witness several initiatives intended to instill greater gender equality. Some yielded visible change, such as the advent of sexual harassment task forces and greater attention to gender representation in Midshipmen leadership positions. Others invoked more ire than influence, such as changing to the lyrics of "Blue and Gold" and adopting gender neutral covers. At that moment, what we observed was an institution so tightly tied to its heritage that it refused to surrender even the more ridiculous nuances of its past. Perhaps it was a reaction to the portents of change that would occur over the next four years. The squeaks of our sneakers in time to the scratchy music playing on the cheap speakers signaled our outward compliance. But our rejection of this model of a naval officer we were expected to emulate was an incremental step in gradually constructing a new one.
In my post-Navy work as a management consultant, my clients are frequently troubled by cultural disconnects within their organizations. These organizations struggle with tensions between their past and their future: who they think they are and who they need to be. They are right to be concerned: cultural disparity between employees and organization directly contributes to diminished employee satisfaction, lower job performance, and increased staff attrition. Yet all my commercial clients combined do not have nearly as much at stake as the Navy does. The Academy, much like the Navy, will always possess its own unique culture formed by its years of rich tradition and heritage. No one is suggesting that this history be abandoned, but for better or worse, that culture is also shaped, and changed, from within. As such, our collective rejection of the waltzing Naval officer represented a small act of subversion; our own contribution to shaping the Navy's culture long before we were ever commissioned.
The truth is, cultural disparity within an organization need not manifest as a battle at all. When it comes to our values, we've been conditioned to perceive everything new as an existential threat (after all, we did seem to enjoy boxing much more than dancing). What choice exists but to fight change to the death? Perhaps this should be the lesson we take away from our profoundly absurd ballroom dancing lessons. Cultural shifts need not be a sparring match, but rather a dance. There is an inherent give and take for both parties involved, a productive tension that, much like a waltz, can create something beautiful… That is, when not performed by Plebes in PT gear.
Did your class have to participate in etiquette training? Did you actually enjoy ballroom dancing? Let's hear from you in the comments below!