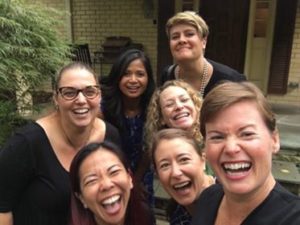 by Shannon Martin McClain '98
Being there. I have often put the word out to others or "been there" for my classmates, peers and sailors.  And while so many people have been there for me throughout my life – family, professors, leaders, and friends, it is always difficult to admit to myself – let alone others – that I need help and support. I dislike pity parties and hate not being able to solve problems on my own. However, I have always felt a strong obligation to be open and honest with those who depend on me. As one of the team at Sisterhood of Mother B, I found myself at a crossroads last May. I had received difficult news in March, and I knew I would need to share it with the Sisterhood HQ – I was going to have problems fulfilling my end of the bargain as Chief Editor.
Unsure of how to even talk about my troubles, I sent an email to the other ladies of the Sisterhood of Mother B:
"So, I have been reminded multiple times this weekend that I might love to talk, but I am a terrible communicator.  Doesn't matter whether it is great news, good news, or really devastating news. . .
"The bad news.  So Carlton and I are pregnant (well, I am) and due in September.  That should be awesome news, but unfortunately, I'm the number 1 in 1 in 26. 1 in 26 pregnancies at the maternal age of 44 have a chromosomal defect (that's less than 4%).  And I won the lottery of the worst kind that might make it to term (Trisomy 13). The good news is that I'm healthy.  The bad news is that there is a high probability she won't make it to term; if she does, she has a high probability of dying during birth; and if she lives through that, her life is more likely to be measured in minutes, hours, or days than months or years. We chose to continue, because we really just want to meet her. . ."
"The day I found out the results of the first test, a friend's father passed away.  She said, we miss him, but we are choosing joy, as he would have wanted.  Carlton and I are choosing joy. Joy that we might get to meet her and joy for whatever time we have with her.  So, if I seem a little distracted or not as responsive as I might be this week or as time goes on, you might know why."
As you would expect, these brilliant, and wonderful women rallied around me. In separate emails, letters and through group texts, they lifted me up and gave me an outlet to share the normal things you share when you are pregnant.  They bought into Carlton and I's philosophy of taking the joy we have in the moment. They also picked up the slack on articles and planning for the Sisterhood of Mother B Blog. They were there for me.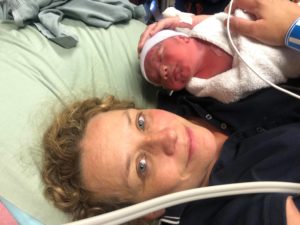 Our daughter, Yara Ani, was born 1 August and passed away on 15 August.  She beat the odds and gave us more than hours and days. She gave us two full weeks of love and memories.  My Sisterhood was there for me during that time, as well – in addition to the ladies of Sisterhood, with the birth of our little girl, I shared our news with our wider world – to celebrate our amazing girl, but also because we needed help.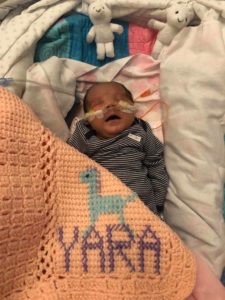 The morning after Yara's birth, a friend surprised me at the hospital with clothes and a blanket – a blessing since we had nothing. Yara was impatient to join us and arrived seven weeks early.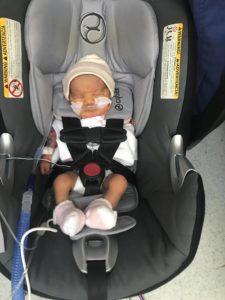 The wider Sisterhood came to our rescue with a carseat to transport Yara home from the hospital, homemade meals (healthier than I can generally make), restaurant gift cards, and grocery deliveries. One fellow officer taught me about Door Dash and another about Uber Eats (I had never used either). Friends, former shipmates, classmates, and complete strangers reached out to lift us up in word and in prayer. All of these things enabled my family to focus our limited time on our Yara.
After Yara passed, our Sisterhood continued their support.  At Yara's Memorial, I was shocked to walk into the room and see the Sisterhood of Mother B (only Jeannette was absent) sitting in the pews. Michele had mentioned that she would be there, but it helped so much to see the others there as well.  It bolstered my courage as we celebrated Yara's life and mourned her death.
After the service, we spent hours reminiscing and sharing stories on my front porch – and we used modern technology to FaceTime with Jeannette. Those ladies helped me concentrate on my joy and helped me to laugh – something I very much needed on that day.  And these women and the wider Sisterhood continue to offer opportunities to find joy and purpose.  They inspire me to the work at hand. They always seem to know when I need a little bit more – a note in the mail, an email, or just a text.
I would not have had any of that support if I had not shared my vulnerability.  I struggled to share it with most of my world, but I am so glad that I felt the need to share it with these women with whom I share the Sisterhood of Mother B. They were and are there for me. Just as we hope to be there for you.
If you need someone, I encourage you to reach out to your circle of friends and family.  If you are like me and hesitate to burden those closest to you, I encourage you to find an outlet.  One tool you can use is the  #objectivezero app. This application connects veterans with support in their local area or around the country, and you can filter by location, school and class year among other options. The goal of Objective Zero might be suicide prevention, but you don't have to hit rock bottom to reach out for help. #USNABeThere.