by Katherine Carradini, USNA '84
Veterans Day has caused me distress for quite some time. As a 2 for 0, my standing with the Naval Academy has always been clear: if you raised your hand on I-Day, you're alumni. Period. But Veteran? Could I count myself with those who went on to graduate, to serve on ships, in planes, and yes, even commanding those LMDs? My angst was always particularly acute during public patriotic ceremonies, where they ask you to stand when the anthem of your service is played.
To stand? Or not stand? Sometimes I did, sometimes I didn't. If I was with my kids, I stood, because I knew they wanted me to – they would look for me, even up from their high school graduation floor, scanning the stands to find me. They were proud of me…why wasn't I?
It took a weekend visit with my Academy women classmates to resolve the issue in my mind. I had previously avoided these events, feeling that I didn't quite belong. It took the sharing of stories, of the past and of the present, for me to understand.
I am a Veteran. I fought the Battle of Bancroft Hall.
Being part of the earliest classes at USNA was challenging in ways that I don't think any of us ever expected. The harassment and humiliation were real. I got away pretty easily. Harassment came in the form of fending off amorous upperclassmen; a disemboweled mouse left on my desk, a class- and company-mate who tailed me and bilged me to our upperclassmen; and one particularly humiliating moment involving the entire dining hall, one incredibly beautiful, bouncy-blond-haired candidate and one sweaty, crop-haired, unmade-up plebe. One woman the midshipmen stood and applauded in appreciation as she exited the wardroom; the other they applauded as well, but clearly in derision.
I'll leave you to guess which one I was.
And still, I got off easy. Other classmates were assaulted and abused. You know the stories. But still, we forged ahead. Today, we all agree that none of us thought of ourselves as Trailblazers, but that we were. Just being there, just persisting, helped pave the way for thousands of women who came after us. I'm told that there are women midshipmen there today who have no idea what we went through; so much is it not like that now. I haven't decided if that's a good thing, or not.
I have decided one thing. I served my country. I helped open the Naval Academy to legions of women who would become Captains and pilots and astronauts. I fought the Battle of Bancroft Hall.
In celebration of my conclusion, I dug out my DD214, took it to my local Tag Agent, and asked for the Veteran Stamp – proudly, and without hesitation.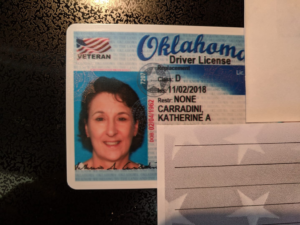 Happy Veterans Day – to all of us.