by Juliana Vida, '94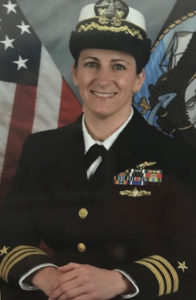 I have the perfect job. What I love the most is the trust my boss and corporate leadership have in me to bring my unique voice, my personality, my style to every public engagement on the stage or with media. This is quite different from the rest of my adult life, including 24 years in the Navy and 3 at a major IT research and advisory firm.  I certainly had my share of being undervalued and silenced throughout my career as a graduate of the great class of 1994 and, therefore, one of the first women to join the wardroom of a combatant ship. As if being a CRUDES SWO weren't hard enough, I transferred to Naval Aviation after my second DIVO tour and took heavier doses of the same.  On one deployment I was the only female pilot on the entire ship, an LHA with about 200 pilots, mostly Marines. On another deployment, on an aircraft carrier, I was the only female department head in any of Carrier Air Wing Eleven's eight squadrons and the senior female in the airwing since there were no female COs or XOs.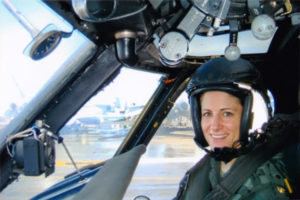 Silenced? Undervalued? Excluded? You bet.
Back to the perfect job.  When I moderate a panel, my go-to icebreaker question for the panelists is "what's your walk-up-on-stage song?"  I recently decided on my own song, which I came across quite by accident watching Aladdin on a recent flight. In the movie, Jasmine is standing her ground against the evil protagonists, Jafar and his henchmen, asserting her place as the princess and rightful heir to the throne of Agrabah.  This song made me sit up straighter and raise my fist in a "you go, girl" kind of way.
Truncated lyrics to "Speechless" sung by Naomi Scott in "Aladdin"
I won't be silenced
You can't keep me quiet
Won't tremble when you try it
All I know is I won't go speechless
'Cause I'll breathe
When they try to suffocate me
Don't you underestimate me
'Cause I know that I won't go speechless
What does this have to do with my October 18, 2019 meeting with Vice Admiral Buck, USNA '83 and current Superintendent, to discuss using storytelling to combat sexual harassment?
Everything.
It was confidence in myself and my voice that led me to respond publicly on LinkedIn to a post by the Capital Gazette in late July, 2019, reporting VADM Buck's top priorities upon taking command: addressing sea level rise and reducing sexual assault.  After years of competing with mostly male counterparts on active duty and as a civil servant in the Pentagon, I've learned an important lesson:
Remaining silent solves nothing.  It is an intentional decision not to engage, not to offer diverse viewpoints, to accept the status quo (then grumble and complain about it offline).
As I read the headline and article about how this new leader intended to go after sexual assault (and by extension, I assumed, the culture at the root of the crime), my blood came to a slow simmer.
I admit, I judged him unfairly. I didn't believe he intended to take on this persistent, toxic beast in a fresh, effective way (e.g. not another mandatory GMT series of lectures)
Without knowing him at all, I thought to myself "yeah right, I'm sure he'll put this right up there with which recon missions are and aren't allowed this year, whether plebes can scrunch down their PT socks, and other super important matters of USNA life and Midshipmen development."  I mean, to be fair, how many leaders have we collectively seen come and go who are well intentioned about addressing hard problems but take little to no action or make progress?
"F it," I thought.  "I'm sick of all the glad-handing and back-slapping of male leaders who don't make things better for women or the Navy. I'm saying something."
So I did.  Fortunately, I had the grace and wherewithal to post a thoughtful comment about how new methods of storytelling in many different forms could in fact be the inexpensive, achievable means for the Supe to tackle the sexual assault challenge.  I read and re-read my post about 20 times, and waited at least 2 hours, before hitting "Post."  Then I let out a breath and thought, "well….here we go."
To my great surprise, he responded right there on LinkedIn that he wanted to hear more of my ideas. He offered a phone number to call and coordinate a meeting.
Elated doesn't begin to describe the emotions. Elated at his response, but honestly, more so at my own confidence in my ideas to post them and risk public ridicule.
Why do we tell ourselves our ideas aren't worth publicly sharing? Why do we first assume the worst, instead of expecting the best?  I think a career's worth of being silenced has something to do with it.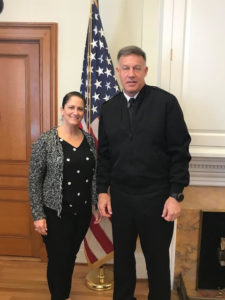 Fast forward to October 18, 2019, and my 30 minutes with Superintendent Buck.  It's worth noting that the administration building where we met, Larson Hall, has only had that name since 2014 when it was renovated and dedicated to ADM Charles Larson, two-time USNA Superintendent who passed in the same year.  In fact, I was almost late for the meeting because I initially went to Bancroft Hall, having no idea where Larson was.  This was important; it showed that renaming of the Academy is actually do-able. Good to know.
To say that VADM Buck was warm and gracious is to do him a disservice.  I felt truly welcome in his space, where he gave me his full attention and interest. We sat in the living room area, not with him behind his desk and me facing him.  He was genuinely attentive and a good listener. I was impressed.  Several alumnae and classmate of his had told me prior to this meeting that he's "a really good guy who gets it."  They were right.
I am not an expert in sexual assault, have never been a command SAPR coordinator, or held any role beyond a division or department leader responsible for setting a positive example and holding Sailors and Officers accountable for treating each other with dignity and respect.  And I wasn't always infallible in those roles.  My intent was to share with him ways he can, and should, make micro adjustments to the everyday USNA culture and environment that will change the way stories are told about the women and men who make the institution what it is – not just the men.
I pointed out that visitors to the Yard see buildings, streets, monuments, walkways, and other geographic points of interest named only – ONLY – for men. Some of us don't even remember what these men did, but the message is clear that they were important. Who was Stribling, anyway? Or Blake, Maury, Hubbard?  Naming conventions are incredibly important on the Yard. They tell a powerful story of Naval history and heritage, which is foundational to our maritime legacy and dominance.  As of this writing, Hopper Hall is the only building named for a woman on any of the major Service Academy campuses. [In this context, it bears noting that she was not an Academy graduate].
I opined that he should use his position to influence visible structural changes around the Yard to weave in the contributions of women. He did not disagree.
This thread led to my mentioning almost being late to the meeting because I didn't know about Larson Hall. "So it is possible to change the name of a building on the Yard, then?" I asked.  "I guess so," he responded, "and though I don't know all the rules yet about what I can and cannot do, I did find out I have the authority to change names of interior rooms and features inside existing buildings."  He didn't promise or commit anything further, but I saw his wheels turning.
We then pivoted to the topic of the small percentage of truly troubled and dangerous young people who make it through the admissions process and pose a real threat to others. He shared that one current, unnamed male Midshipman is undergoing legal processing for repeated physical abuse of others. We agreed there is a very small percentage of "bad people" in any population, including USNA, and shifted to discussing the Academy's mission: to develop Midshipmen. As the population becomes more diverse with each class, assumptions of candidates' value sets and upbringing are less and less appropriate. He agreed that "development" into people of character and high morals is the responsibility of the Academy. This development includes the intentional indoctrination of all Midshipmen that women and minorities are as valuable as white men and have contributed significantly to Naval history and maritime dominance. Not to mention, all deserve the respect of their shipmates.
He told me that when he took over this summer, a small group of '79 grads told him they are "damn proud to be the last class with no women." He told me that made him sick; that he considers them bad people who we just "have to wait out."  I respectfully disagreed. Though I understand and appreciate their value as alumni, and their likely financial contributions and influence, it's not enough to wait them out. They have sons, nephews, friends, and others to whom they spread their acrimony, and it's not good enough to just let that go. I suggested he take a harder stand next time.
I shared other ideas for creative storytelling:  hang official portraits of notable female alumnae in prominent places – for example, ADM Michelle Howard or CAPT Wendy Lawrence; require midshipmen to yell "Go Navy, Ma'am!" as a general rule as opposed to a special circumstance where an upperclass happens to be a woman; setting a goal of 50% diverse speakers at Forrestal lectures and other high-visibility Yard events; incorporating the stories of modern day alumnae who show leadership in the Fleet and government, such as CAPT Maggie (Vasak) Wilson '96, RDML Heidi Berg '91, BGen Bobbi Shea '91, CAPT Andria Slough '98, the Honorable Rep. Mikie Sherrill (D-NJ) '94, and the inimitable LTG Lori Reynolds '86. In fact, why not create a professional military course around the contributions of women?  He listened to my ideas with interest; his SAPR officer dutifully took notes as well.
My one regret is not asking for a follow-up or status check 3-6 months down the line. There are a million things I wanted to discuss but either forgot about or we ran out of time. I fully intend to ask for another meeting and ask how he feels he's progressing on this top priority. In the meantime, I will continue, and I encourage all my sisters from Mother B, to use our voices to make the points and ask the questions that need to be spoken. Don't be a tacit bystander. Take a stand; take a risk.   I support you all 100% in this endeavor. Thank you for doing the same for me.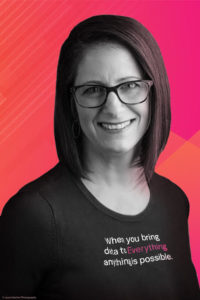 Juliana Vida's perfect job is as Chief Technical Advisor for Splunk, the world's first Data-to-Everything platform. It's perfect because "it offers flexibility to travel and work essentially from wherever I want; learning daily from the smartest people in high technology; honing my knowledge and expertise around things like cloud computing, artificial intelligence (AI), machine learning (ML), 5G, and more; public speaking in a wide range of venues on numerous topics; and a great compensation package. It's a Silicon Valley software company, after all."