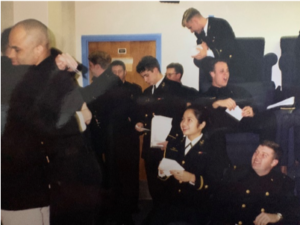 This week may mark the end of Service Selection as the Surface Warriors choose their ships, but it is the beginning of so much more for the Class of 2020. The Sisterhood of Mother B has been thinking about all of you as you prepare for graduation. Our letter from last year, "Dear SWO Sisters of 2019," is bursting with advice for SWOs from the Sisters who have gone before you. This year, we wanted to add advice that applies to all warfare communities. Here are some words of wisdom from the Sisterhood 
Kim Do '17
First tour division officer! It is a title that strikes both excitement and fear. No other job in the Navy does that to someone. As they always say, first impressions are everything. When you get to the ship, whether it's in the yards, on deployment or going through inspection, hit the deck plates running! Don't be that
Ensign who wants to just get off all the time. You will have time for that later. Work on your qualifications. Develop a professional relationship with your chief. That is key. If your chief doesn't trust you, work on that. Show him/her that you deserve their respect and trust. Show them through your work ethic, humility and the intellectual curiosity. Get to know your sailors. They have a perception about officers, especially junior ones just joining the fleet. Be approachable but don't be too friendly and amicable to the point sailors think they're your friend.
Kate McCreery Glynn '98
You're heading to flight school! Some unsolicited advice from a former flight student/pilot/flight instructor (Editor's note: some of these things apply to all newly commissioned officers):
Don't fixate on what you think you want to fly.  Work hard, pass your check-rides, see what happens.  Your grades matter, but the need of the service matters more, so setting your heart on one aircraft may = heartbreak.  No matter what you select, you will end up loving it, and snarling at anyone who disrespects your personal hunk of rust.
Speaking of heartbreak:  If you're single when you start flight school, stay single.  If you coupled, stay coupled.  You do NOT need drama and angst to complicate your life, and "I was up late crying over my breakup" is not an excuse for a sub-par brief. (Editor's note: Kate met her husband at the dunker five weeks after starting flight school.)
Your reputation follows you into the fleet.  Crappy, but true.  Aviation is a relatively small and reputation-obsessed community. If you screw over your wingman, show up late to everything, or ring-knock, it WILL bite you later. 
DON'T FIGHT YOUR CALLSIGN.  The harder you fight it, the more it will stick, and I promise, at some point it will be a story to laugh about.  Side note:  any new check-in who claims there callsign is "viper" or "assassin" is full of it, and probably hiding a stinker of a nickname.
Be a decent human.  Treat enlisted folks and contractors with respect.   They are the folks who work long, thankless, way-less-exciting-than-your-job hours to make your flying machine go.
Don't fall into the trap of dissing other women.   Aviation is pretty testosterone heavy.  Most of your squadron-mates will be dudes, and bravado and dirty jokes and macho swagger are a thing.  The collision warning system on an F/A-18 was called Bitching Betty.  One squadron on my first float was famous for printing nudes on the back of their briefing cards.  It is going to be easy to let it slide (heck, even join in) when guys trash a female instructor/student/maintainer, or comment on their looks.  Don't.  Find your sisters, support each other, don't take crap.  Yes, that one gal may be a hot mess, but trust me, there are dudes who are hotter messes that aren't getting the same scrutiny. 
It sounds trite, but I really would do it all again.  You are embarking on the adventure of a lifetime!
Sarah Rice, '02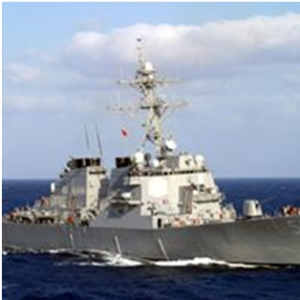 My ship selection story is probably unique; I earned a spot in an IGEP program and didn't have to pick with the rest of my class. I did however purposefully service select conventional SWO (instead of nuclear, even as an engineering major) so that I could have more options for lateral transfer later in my career. 

I ended up in a hot-fill billet for my first SWO tour after just asking the detailer to get me from my grad school location to San Diego, and then followed up in another hot fill to stay in San Diego (there's a pattern here), after which I then executed my Engineering Duty Officer option and did my ED qualification tour, and then a follow-on, both in San Diego (told you!).

The moral of my story: sometimes it's also ok NOT to decide! I've had location as a priority for almost every decision I've made, and let the rest fall into place. There's opportunity for growth in lots of places, so make sure to look for them and take advantage as much as you can. I've purposefully made decisions that would allow me to keep career doors open (so, again delaying any decision I couldn't walk back from… can you tell I'm a Pisces?) because I really didn't know what I wanted to be when I grew up (maybe still don't), but I do know I'm happy where I am and what's within the realm of the possible for what comes next. Your first ship won't determine your last!
Silent Sister
USNA gave you four incredible years of camaraderie and good friends amongst your classmates, the classes in your company, sports, same majors, same sponsors. Now it's time to build new relationships, friendships, and your "business" network. You'll be meeting other classmates you never got to know at USNA. Make that camaraderie stronger! And, the folks you meet at your specialty schools will become your mentors/peers in your field.
 *Connect and stay connected. You'll meet good friends from other commissioning programs, appreciate the diversity in education and leadership. Invite them to join your "service academy" circle.
*Listen to and learn from your Chief.
*Don't let your qualifications fall behind.
*Everyone you work with are PEOPLE. Human beings. They have stories behind them. Get to know them.
 Julie Vida '94
Fortunately Mids these days have women in the fleet to reach out to with questions so they can make an informed choice. We didn't have that luxury in '94 since many career fields opened up mere weeks before service selection. My advice is simple: reach out to women on ships, in squadrons, or whatever community they're interested in to ask what the environment and jobs are like. LinkedIn is my favorite way to connect, but I would imagine anyone in [from the Sisterhood of Mother B and the USNA Women's SIG] would be happy to connect through this FB group or others. So many young people don't tap into the knowledge and experience of those who are there or have been there. They need to take ownership of their future and reach out.
 Katie Gerhard
Things I wish I had known: your Naval Academy graduation order determines your lineal number and how you promote to O-4 and beyond, so it does matter. Start a Thrift Savings Plan immediately, and when you deploy, sign up for the Saving Deposit Program. I always choose my orders based upon location – figure out what's important to you (location, billet/job, family, etc.) and stick to your guns when talking to the detailer. If you don't like the job you were dealt at USNA, the Navy is full of lateral transfer jobs- the Navy is your Oyster!
Jennifer Marino '98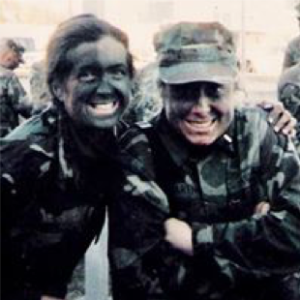 If you got your first choice of community/specialty/MOS — congratulations! Go knock it out of the park and be the leader you've trained to be! If you did not get your top choice (or one of your top choices) in any way, whether that be duty station, type of ship, aviation billet or not, that's okay! You can and will still have a great career and wonderful opportunities to learn and grow if you choose to embrace them. If that's you, awesome! Go knock out of the park and be the leader you've trained to be! Focus on learning all you can, being a team player and a servant leader and you can't go wrong.
Alison Hernandez '86
In the end, be able to look in the mirror and be able to say you did your best – at whatever job you are assigned. Also, remember at some point, everyone takes off the uniform. Your spouse and children are important.
—–
As for me, I will offer the best advice I was ever given:
Give your best effort, always. Then, remember that someday, the Navy or Marine Corps won't select you for that job you wanted or the next promotion – except, maybe, for those of you who become the CNO, Commandant of the Marine Corps, or the Chairman of the Joint Chiefs (I know you are out there). When that happens, what will bring you comfort? For some of you, comfort comes from the knowledge that you did everything in your power to get that job – took all the right assignments, sacrificed where you could. For others, it will be the experiences you lived – the interesting duty stations, the challenging orders, the opportunity to be stationed close to family, the once-in-a-lifetime opportunity. At various points along this journey, take the time to evaluate who you are and how your view has changed (or remained the same). If you do this, you might not get everything you want, but you will enjoy the journey.
Bring others along on your road to success – study together; share information and opportunities; lead and mentor others. The most successful squadrons I worked in and the most successful officers I worked with and for competed by doing their best to lift the unit, their sailors, and their peers higher instead of undercutting others to highlight themselves.
Use the knowledge and information from those who have gone before you. Seek mentors. They can help you find a path within your community, transfer to another community, navigate special programs or fellowships, and transition out of the military. Someone knows someone who can help with whatever you want to pursue.
As you head out to your first adventures as a Junior Officer, know the Sisterhood of Mother B is here to support you.  Those who have gone before you are just an email or DM away.
Standing by.
Go Navy,
Shannon McClain '98
and the Sisterhood of Mother B
You can reach us via email at sisterhoodofmotherb.editor@gmail.com; on Facebook and Instagram @sisterhoodofmotherB; and on Twitter @sistersofB.