Welcome to Friday, Sisterhood!! It's Five for Friday, and in honor of Black History Month, we bring you five kickass examples of African American women in the service! Check out these amazing women leaders, and then share your stories with us. You can reach us via DM or by emailing sisterhoodofmotherb.editor@gmail.com.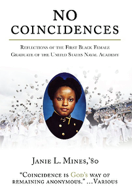 Janie L. Mines (UNSA '80) was the first African-American female graduate of the United States Naval Academy. After serving in the Navy Supply Corps, she earned an MBA from MIT in 1998. With numerous corporate leadership positions under her belt, Mines founded her own consulting firm, Common Sense Business Services and the Boyz to Men Club, a nonprofit that supports economically disadvantaged youth in Fort Mill, SC. She is a member of the Defemse Advisory Committee on Women in the Service, and the author of No Coincidence, Reflections of the First Black Female Graduate of the United States Naval Academy (Lightening Press, 2018).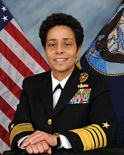 ADM Michele Howard (USN, ret.) (USNA '82) was the first African-American woman to command a U.S. Navy ship (USS Rushmore), the first admiral selected from the class of 1982, the first female USNA grad to achieve flag rank, the first female to serve as a four-star Admiral, the first woman and first African American to serve as Vice Chief of Naval Operations, AND the first female four-star to command operational forces as Commander Naval Forces Europe and Naval Forces Africa (Note to self: NEVER compare myself to Admiral Howard). At her retirement in December 2017, Howard was appointed a J.B. and Maurice C. Shapiro Visiting Professor of International Affairs at George Washington University, where she teaches cyber security and international policy.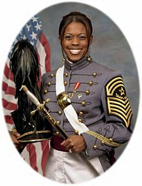 2nd Lt. Emily Jazmin Tatum Perez (USMA '05) Was Command Sergeant Major at West Point, making her the highest ranking African American cadet in history at the time. A tireless advocate for those in need, Lt. Perez had already established an HIV/AIDS ministry at her home church, and trained as an HIV/AIDS counselor with the American Red Cross. She commissioned into the Army Medical Service Corps in 2005. In 2006, Lt. Perez was killed in the line of duty when an improvised explosive device detonated by her Humvee. She was the first female graduate of USMA to die in combat, and the first ever female African American officer to die in combat. Rest in peace and power, Lieutenant.




Natasha Sistruk Robinson (USNA '02), Captain Tasya Lacy (USNA '97), Dr. Tracey Nicole Hayes, (USNA '92) and QuaWanna Reddick Bannarbie (USNA '99) are founding Board Members of Leadership LINKS, founded in 2015 to educate and equip servant leaders who are committed to using their skills and resources for the greater good of humanity. Leadership LINKS' flagship program is the Walk in Purpose Summer program for girls, which prepares rising 6th through 10th grade girls for innovation, executive leadership, and entrepreneurship. The organization also sponsors LINKS to college, Global Leadership Experiences Tours, and the LINKS mentoring program for 6th through 10th graders. Thank you ladies, for an amazing example of lifelong service!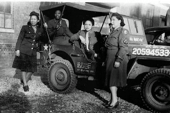 The Women of the 6888th Central Postal Directory Battalion
This all African-American, all volunteer battalion in the Women's Army Corps adhered to the motto "No Mail, low Moral." Despite hostile treatment from male soldiers, the women of the Six Triple Eight created an effective tracking system, located thousands of individual service members, and processed and average of 65,000 pieces of mail per shift. A six month backlog of mail, stacked in a freezing warehouse in Birmingham, England, was cleared in three months. The 6888th then embarked for Rouen, France shortly after VE Day. Denied official military status, the Six Triple Eight was nonetheless the only all African American unit of women deployed overseas during World War II. A monument commemorating their service was dedicated in 2018. A bust of Commanding Officer Lieutenant Colonel Charity Adams, graces the monument in the Buffalo Soldiers Monuments Park in Ft. Leavenworth, KS.