By Renee Runyon '04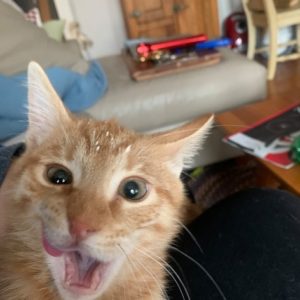 I was called a hero today because of a silly Instagram post about my cat. I laughed because that's not exactly how I think of myself as I sit on my sofa watching reruns of Mary Tyler Moore, The Jeffersons, and documentaries about serial killers. Things are sucking right now for a lot of people, but I'm truly enjoying all this time I have to myself. A lot of my friends and family are having a hard time with this, and I can definitely empathize, but I really don't know how to help. It seems silly and insignificant, but what started as a sort of self-serving, photographic journal on Instagram and Facebook of my indoor and outdoor adventures with unemployment (unrelated to COVID-19) and quarantine, has become kind of a bright spot for some (mostly my mom and Aunt Terry) amidst the bad news and scary reality of the situation. Before this year, I tended to shy away from social media, but I like that I can use it now to provide a little humor. This virus is not a joke. It's something that should absolutely be taken seriously, but I'm here to save the day with a bit of a respite from the gravity of the temporary new normal.
After I lost one of my two cats almost two years ago, I had been thinking about getting another. I kept putting it off because I thought Eddy (from Ab Fab, sweetie, darling!) liked being an only cat. This past holiday season, the time was right. I was going to have some time off of work and there was a kitten that needed a home. A few days before Christmas, I drove over an hour to meet the husband of some lady in some parking lot to pick up this kitten. Other than my squealing, "OH, MY GOD HE'S SO CUTE!" there was no pageantry. After my little outburst, the guy simply said, "She needs the carrier back." Right. So Rudy and I went home.
I'll provide a little of my background to illustrate my pretty extensive personal and professional relationship with our feline brethren, but keep in mind that none of that time and experience could prepare me for Rudy.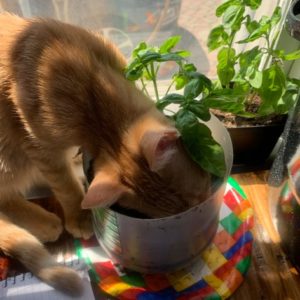 Ever since I was 7 or 8 years old, I wanted to be a veterinarian. After high school, I went to college and majored in biology so I could begin my journey to my dream job. I got a D in biology. Twice. After another year of trying to figure out what I wanted to do, I enlisted in the Navy. I went to Nuke school, then to the Naval Academy, then to an amphib in San Diego. When I left the Navy, I thought I'd give the veterinary field another go. I became a veterinary technician. As a vet tech, I dealt with all kinds of personalities, both animal and human, but my absolute favorites were fractious cats. I think it was partly because it wasn't easy and partly because no one else ever wanted to deal with them. The first hospital where I worked had a dedicated cat clinic, where the doctor saw only feline patients. She taught me a whole lot. In the second hospital, the doctor I worked with was a favorite of all the crazy cat ladies (and one crazy cat man), so cat wrangling became a necessary skill that developed rather quickly. That doctor taught me a whole lot more.
My family had a handful of cats while I was growing up. Every single one of them did normal cat things, like run away and hide when I opened a can of soda. Seek refuge in a kitchen cabinet when I turned on the vacuum cleaner. Maybe be curious enough to poke their heads through the crack in the bathroom door while someone was in the shower, but never, ever, ever, EVER enter the bathroom. They all just kept to themselves in general because that's what cats do.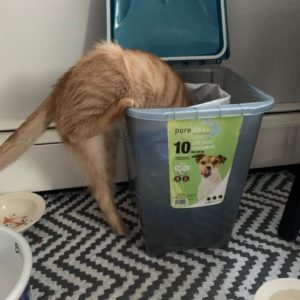 Rudy is silly. He's social. He moves really fast and he likes people, animals, loud noises, water, and the vacuum cleaner. He likes to cuddle. He loves to harass Eddy, and deep down, I think Eddy likes it despite her very loud and dramatic outbursts in response to Rudy's attention. He's very busy and every day, he does at least one thing that surprises me.
Every few days starting around the beginning of March, I shared photos on Instagram and Facebook of him doing dumb things, like stealing used paper towels or food, playing in the bathtub, or helping me do my taxes. When necessary, I added witty, anthropomorphic captions.
About two days went by without an update on Rudy's antics and I got a few messages asking where he was and if he was okay. I realized that this furry little orange jackass was making people happy and they looked forward to seeing him, so I rolled with it. My aunt works in a healthcare facility and she said her favorite part of the workday is being able to check her phone and see something completely unrelated to COVID-19. For the last three weeks, updates on Rudy's tomfoolery are provided at least once a day. I don't know that I'd be this sane if I didn't have him. He's the real hero.