When:
November 12, 2020 @ 16:00 – 17:30
2020-11-12T16:00:00-08:00
2020-11-12T17:30:00-08:00
USNA Women's SIG STEM committee is presenting a bi-monthly fireside chat series featuring USNA Alumnae in STEM careers.  Thursday, November 12th 2020 will feature Adm Michelle Howard '82, USN Ret. and LtGen Lori Reynolds '86 USMC
Register HERE. This chat will start at 1600 Pacific Time, an hour earlier than previous chats to enable midshipmen participation.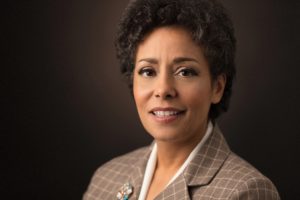 Michelle J. Howard '82,  Admiral, U.S. Navy, Retired
Experience:
Michelle J. Howard served 35 years in the United States Navy.  She led Sailors and Marines multiple times in her career as the Commander of:  a ship, an Expeditionary Strike Group, Task Force, and a Naval theater. Her last command was from 2016 to 2017 as U.S. Naval Forces Europe and U.S. Naval Forces Africa. She simultaneously led NATO's Allied Joint Force Command Naples with oversight of missions from the Western Balkans to Iraq.  Operations in her career include: NATO peacekeeping, West African Training Cruise, Indonesia Tsunami Relief operations, and the rescue of Maersk Alabama from Somali Pirates.  Michelle J. Howard is a Desert Storm and Operation Iraqi Freedom veteran.
Accomplishments:
In 1999 Michelle J. Howard became the first African American woman to command a ship in the Navy. Michelle was the first female USNA graduate to reach flag rank and was the first admiral from the class of 1982. In 2014, she was the first woman to become a four-star Admiral in the U.S. Navy and the first woman to be appointed to the position of Vice Chief of Naval Operations (number two in a Military Service).  She is the first African American woman to reach the rank of three-star and four-stars in the Armed Forces.
Michelle J. Howard was the Shapiro Visiting Professor at the Elliott School of International Affairs, George Washington University from 2018 to 2020.  She taught courses on cyber and policy.
Education:
U. S. Naval Academy, Bachelor of Science 1982
U. S. Army Command and General Staff College, Masters Military Arts and Science (History) 1998
Recognition:
Women of Color (STEM) Career Achievement 2008
Dominion Power Strong Men and Women Excellence in Leadership 2009
USO Military Woman of the Year 2011
NAACP Chairman's Image Award 2013
Thurgood Marshall College Fund National Hero Award 2014
Annie Oakley Society 2015
French Legion of Honor 2015
Order of Naval Merit Brazil 2017
Atlantic Council Distinguished Military Leadership Award 2017
KPMG Inspire Greatness Award 2018
Veterans of Foreign Wars Armed Forces Award 2019
Honorary Degrees
Rensselaer Polytechnic Institute 2015
American Public University 2015
North Carolina State University 2016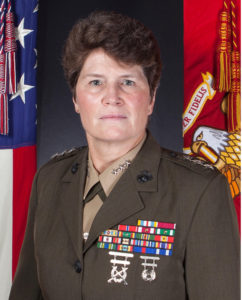 Lieutenant General Reynolds was commissioned in May 1986 upon graduating from the U.S. Naval Academy and assigned as a Communications Officer. As a Company grade officer, she served in various billets at 1st Marine Division Communications Company, Marine Wing Communication Squadron 18 in Okinawa, Marine Corps Systems Command, and 9th Communication Battalion, I MEF. As a Field Grade officer, she was selected to command Recruiting Station Harrisburg PA and then served as an Action Officer and Division Head at HQMC C4. She was selected to command 9th Communication Battalion in 2003 and deployed the battalion to Fallujah Iraq in support of I MEF during Operation Iraqi Freedom II. She was subsequently assigned to duty with the Joint Staff J6 in Washington DC where she was an Action Officer and Division Head. Col Reynolds assumed command of 1 MEF Headquarters Group in 2009 and deployed the Group to Helmand Province Afghanistan in support of I MEF and RC Southwest during Operation Enduring Freedom. As a General Officer, she commanded Marine Corps Recruit Depot Parris Island/Eastern Recruiting Region from 2011-2014, was the Principal Deputy to the Deputy Assistant Secretary of Defense South and Southeast Asia in OSD Policy from 2014-2015 and commanded Marine Corps Forces Cyberspace Command from 2015-2018. LtGen Reynolds has commanded at every rank.
Her professional military education includes The Basic School, the Basic Communication Officer's Course, Command and Control Systems Course, the Naval War College and the Army War College. She has earned Masters Degrees from both the Naval War College and the Army War College.
Her personal decorations include:
Defense Superior Service Medal with oak leaf cluster
Legion of Merit, Bronze Star, Meritorious Service Medal (with gold star)
Navy and Marine Corps Commendation Medal (with gold star).
This event will be moderated by 2 women from the USNA class of 2021:
MIDN 1/C Juliet Yu is a senior at the United States Naval Academy where she studies Cyber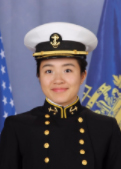 Operations and Chinese. Born and raised in Seattle, she came to the United States Naval Academy to join the Cyber Force to defend forward and persistently engage so that one day, the people of America can have the freedom to love, innovate, and live their lives without worrying about their security. At the Academy, she shoots on the Pistol Team and serves as both the Brigade Midshipmen Information Systems Liaison Officer and President of the Women in Cyber and Computing Club. Through Cyber internships, independent research on the LTE Protocol, SANS training, and numerous other professional development opportunities offered by the Naval Academy, her passion for serving has only magnified. During her free time, she enjoys the outdoors, dancing, and spending time with loved ones.
Originally from San Diego, California, MIDN 1/C Kate Asaro is currently a computer science major at the United States Naval Academy. At the Naval Academy, 1/C Asaro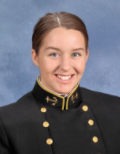 has become passionate about the opportunity to combine military service with technological expertise. Her enthusiasm to pursue a career in a technical field has inspired 1/C Asaro to devote time to professional goals with involvement in the Information Warfare Club, internships at U.S. Cyber Command and Northrop Grumman, and her role as Vice President of the Women in Cyber and Computing club. When she's not coding, 1/C Asaro enjoys endurance running, kayaking, and backpacking around the trails of Maryland. Upon service assignment in November, 1/C Asaro hopes to join the naval intelligence community.
This event is sponsored by Vets In Tech.