Welcome to the Sisterhood of Mother B Waypoints Podcast! We are excited to introduce you to the Sisterhood HQ members in the inaugural Waypoints episodes!  This is a podcast for you, so if you have suggestions, comments, or questions, post a comment on the podcast page, here on the SIG/SOMB webpage, or email us at sisterhoodofmotherb@gmail.com.
You can also subscribe via Apple Podcasts – click here
Thank you and Enjoy!
Waypoints Podcast Intro – Short intro to talk briefly about the Sisterhood, Mother B, and what we are doing.
Waypoints Episode 1 (click here) -In this first episode of the new Waypoints podcast, the official podcast of the Sisterhood of Mother B, Jenn and Jeannette, the podcast co-hosts, talk about their experiences as female USNA grads and Marine Corps pilots, and describe why the felt the need to be part of the Sisterhood of Mother B.
Waypoints Episode 2 (click here) – Our intro episodes consist of brief intro interviews with the members of the Sisterhood of Mother B, women from the great class of 1998 from the U.S. Naval Academy. In episode 2, Jenn and Jeannette interview Shannon about her experiences and what she has learned.
Waypoints Episode 3 (click here) – In Episode 3, we talk with Michele, fearless director of operations for the Sisterhood, to learn about her work and experiences. Have patience with us as we learn how to "do" podcasts! Flying helicopters was easier and still took us longer to learn…
Waypoints Episode 4 (click here) – Episode 4 features an interview with Kate, our resident Sisterhood twitter expert and all-around rock star. And check out the picture from '98's Plebe Summer book…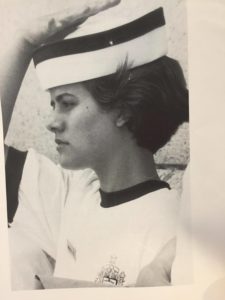 Waypoints Episode 5 (click here) – In episode 5 of Waypoints, the podcast of the Sisterhood of Mother B, Jenn and Jeannette interview Beth Ann, the 6th founding member of the Sisterhood. Episode 6, to be released soon, will feature the final Sisterhood member – Carrie Howe – before we move into the '80s ladies and some reader response episodes.
Waypoints Episode 6 (click here) – In episode 6 of Waypoints, Jenn and Jeannette interview their fellow Marine Corps helo pilot and USNA classmate Carrie Howe, the final member of the Sisterhood of Mother B! Join us as we talk to Carrie – and stay tuned for our first write-in episode in two weeks!
Waypoints Episode 7 (click here) – Stories from the edge of needing to go to the bathroom. We're trying something new – write-in episode #1 asked listeners to share stories about how they adapted and overcame the equipment and process failures that result when the "norm" or "average" user is expected to be a man. While the topic is funny, the outcomes aren't always. Expect write-in episodes to range from the hilarious to the painful – and to cover everything in between. Stay tuned and provide feedback! And next time – listen up for our first interview with the women of the 1980s.
Waypoints Episode 8 (click here) – Stef Goebel '80 talks with us! Welcome to our first interview with one of the women of the class of 1980 – the first class from USNA to graduate women. Stefanie is a force of nature, and her stories are riveting. Please tune in – and send us your feedback!
Waypoints Episode 9 (click here) -This week, Jenn and Jeannette talk all things USNA, women, sisterhood, and so much more with Barbette Lowndes, class of 1980 and fearless leader of the USNA Women's SIG.
Waypoints Episode 10 (click here) -For episode 10, Jenn and Jeannette talked with Kristin Reynolds Goodrich, class of 1989. Come listen to Kristin's stories of plebe summer, plebe year, and her journey from Annapolis to where she is today. And stay tuned for our next episode – we're branching out!
Waypoints Episode 11 (click here) -In Episode 11, Jenn and Jeannette – given the opportunity to freelance because of a scheduling glitch – dive into Jeannette's research, gender and security, leadership, and the book Invisible Women: Data Bias in a World Designed for Men by Caroline Criado Perez. Come join us as we talk Thomas Jefferson, Navy gear, and what happens when you bet against Jenn on the rifle range.
Waypoints Episode 12 (click here) – This week, Jenn and Jeannette discuss suicide and veteran/military culture with Dr. Tiffany Prather. Please join us for a serious discussion. Additional Resources for veterans and their families are listed below:
Service members, veterans, or their families experiencing crisis should seek help immediately by contacting the Military Crisis Line at 1-800-273-8255 and pressing 1.  You can also seek crisis support via text at 838255 or via chat online at

www.militarycrisisline.net

.
U.S. Forces Korea (USFK) has established toll-free phone support to the Military Crisis Line for all USFK community members, including active-duty military, civilians, family members and contractors. Callers can reach qualified, caring responders at the Military Crisis Line by dialing 0808-555-118 or DSN 118. A live Internet-based chat service is also available for USFK members, as well as the rest of the U.S. military and their families, at

www.militarycrisisline.net

.
For overseas or international: Dial 118 from any U. S. Air Force or U. S. Army installation in Europe or dial 00800-1273-TALK (8255) for a commercial toll-free line in Belgium, Germany, Italy, the Netherlands, and the United Kingdom.
Service members or their families who would just like to talk to someone who has shared similar experiences should contact Vets4Warriors. They will be linked to a peer who is trained to assist them in overcoming their obstacles. Call 855-838-8255; email

info@vets4warriors.com

If you are in need of support or you would like to help someone who is, consider downloading the Objective Zero app. Our Class President, Dave Forman, has led a team of classmates in partnering with the OZ team to raise funds and add capability to the app for connecting fellow service academy graduates. Learn more 

https://www.objectivezero.org/
Waypoints Episode 13 (click here) – In this episode, Jeannette talks with the Rev. Tommie Lee Watkins, PhD. Tommie is a member of the great class of '98 at USNA, and he was our class president until the end of our junior (2nd class) year. His story is painful, powerful, and – seen through the perspective of the past two decades – one that leaders need to hear.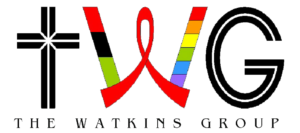 Learn more about The Watkins Group, LLC, here. http://twgllc.biz/
Waypoints Episode 14 (click here) – In Episode 14, We talk leadership & service with Amy McGrath – Marine Corps fighter pilot, mother, and candidate for Senate from Kentucky! SOMB makes no endorsement for or against a specific candidate or party but we encourage women, especially veterans, to run for office and participate in elections regardless of affiliation. For listeners interested in learning more about Amy's campaign, please use the links below. https://secure.actblue.com/donate/usnapod#. Campaign website: https://amymcgrath.com/
Waypoints Episode 15 (click here) – In this episode, Jenn and Jeannette interview Steve Le, one of the most interesting grads we know. His story is heroic, tragic, and inspiring. Steve was born in Saigon just prior to its fall. Through a series of challenges, he made it to the US – and into USNA. After serving in the Navy, Steve eventually began working on Le Mobile Feast. Pay close attention to how three Gen Xers handle the technical malfunction toward the end of the podcast, and check out Steve's website: https://lemobilefeast.com/.
Waypoints Episode 16 (click here) – Come join us as three members of the Sisterhood, Jenn, Shannon, and Jeannette, share stories from listeners (and from each other) about the fun that can be Army/Navy week. Stories range from heartwarming to downright disgusting, and everything in between. And finally… BEAT ARMY!
Waypoints Episode 17 (click here) –In Episode 17, we continue with our interviews with women of the 90s, starting with Samanthia Rousos-Gage, member of the class of 1991. Please join us as we explore with Samanthia what it was like to serve in a time of incredible change for the Navy, and learn about what it's like to start at USNA as a non-swimmer only to become a Master's swimmer later in life. Beat Army!
Waypoints Episode 18 (click here) – For this episode, Jenn and Jeannette – who were TBS and flight school roommates – interview another set of roommates, Christine Bath-Zachery and Lynne Smith Driscoll, both class of 1990. Chris was Jenn's sponsor mom, and late 90s grads might remember Lynne, who played an integral role in the USNA admissions process. Chris and Lynne finish each other's sentences, discuss how they supported each other, and tell stories that might remind listeners of their own days at USNA and beyond.
We couldn't help but share a few pictures of Lynne and Chris!!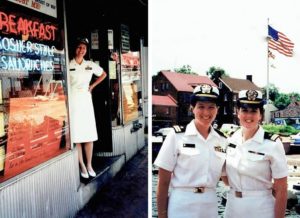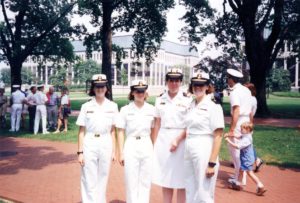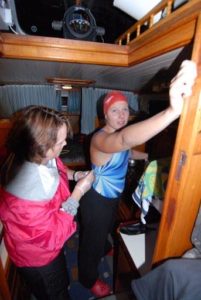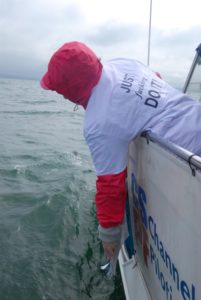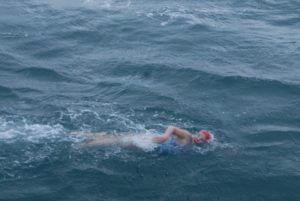 Waypoints Episode 19 (click here) – In Episode 19, classmates Misty, Jenn, and Jeannette explore the wonders of Surf and Turf in King Hall, flying frigates, roommate Bingo, the Mystery of the French Fries, and – on a more serious note – discuss the heart-wrenching duties that redefine our lives as leaders. Please join us!
Waypoints Episode 20 (click here) – In Episode 20, Kate and Jeannette read stories and comments from our listeners about what it's like to be dual-military… and because we can't keep our opinions to ourselves, we grind some axes as well. Come join us as we complain, vent, laugh, and in general agree that the pain is worth it…
Waypoints Episode 21 (click here) – In Episode 21, COVID-19 occupies our every thought these days. The Sisterhood is considering how to best use our platform during this crisis, and how to support, connect, and engage as we all pivot to this new reality. While we chart out our path, we wanted to share Part II from our dual-military episode. We recorded it just before the virus became a reality inside the U.S.. Hopefully giving Jeannette and Kate a microphone and letting them grind their axes distracts everyone for a bit. Take care and stay safe…
Waypoints Episode 22 (click here) – In Episode 22, Jenn and Jeannette get to talk with Midshipman 1/c Taylor Sparks, USNA '20, about leadership and resilience in the face of the COVID-19 crisis. The Sisterhood of Mother B salutes the Class of 2020 as they embark upon their careers in a new normal – and without the kind of sendoff that the rest of us had. And because we are amateurs, Jeannette accidentally hit a button that made her voice sound weird partway into the podcast…and can't figure out how to fix it. So – Enjoy! 
Waypoints Episode 23 (click here) – In episode 23, Kate and Jeannette interview Phoebe Kotlikoff and Will Harris, both members of USNA Class of 98+15, both submarine officers, and married to each other. Please join us as we talk about breaking submarines (don't ask Kate and Jeannette to explain that part), dual-mil challenges and rewards, allyship and advocacy, and the work we still have to do. And join Kate and Jeannette in celebrating fellow nerds – we must unite!
Waypoints Episode 24 (click here) – In episode 24, amidst the turmoil that is 2020, '98er and track star extraordinaire Regina Ware Dixon joins Jenn and Jeannette to talk about USNA, race, the Navy, roommates, and gender… and what, how, and where we can learn if we want to make changes to our world. Also, the Kearsarge was problematic in summer 1996. And we need to check our assumptions. Join us…
Waypoints Episode 25 (click here) – Please join Shannon and Jeannette as they talk with Trishette (Hall) Neville, USNA '97, about racism, gender, and leadership at USNA and in the military. About the hanging of Confederate flags in Bancroft Hall. About how complex and deep racism is, and how the fight against it can be subordinated to other causes. About loneliness and resilience. And, a little bit, about how drill seems like it would be cool but really it isn't. Unless it's not at USNA. Then it's cool. (Or not.)
Waypoints Episode 26 (click here) – Content warning: white ladies awkwardly talking about racism. We will screw it up. We may offend you. If we do, we want to know. This is about growth, not self-affirmation.
Sisterhood of Mother B wanted to discuss racism together on Waypoints so Jeannette, Jenn, Carrie, Kate and Shannon got together to talk. It was awkward and humbling, but without forcing ourselves out of our comfort zones, real change won't happen. So join us as we get uncomfortable, learn, and work on getting it right – not being right. And please reach out with comments, ideas, corrections, additions, or reactions.
As summer commenced in this year from hell, the Sisterhood wanted to discuss racism together on Waypoints. Our group is white, and the burden is on all of us to use our voices and perspectives for change. This podcast is awkward and it's humbling, but without forcing ourselves out of our comfort zones, real change won't happen. So join us as we get uncomfortable, learn, and work on getting it right – not being right. And please reach out with comments, ideas, corrections, additions, or reactions.
Waypoints Episode 27 (click here) – This week, Shannon and Jeannette bring Sandy Coward, CAPT (Ret) USN, onto the show. CAPT C, USNA '64, knows his way around a sea story. He was head of the admissions board in the early 90s, spearheading changes that brought more women to Annapolis and recruiting for the amazing class of '98 and the also-amazing '98-1. Given the tribulations of 2020 so far, we asked him to talk about his life, career, and how to bring about institutional change. Please join us – and put your feet up. It's a long one!
Waypoints Episode 28 (click here) –In this episode of Waypoints, the Sisterhood discusses our personal experience with eating disorders and the prevalence of ED in the uniformed services.  Is it our type-A perfectionism that draws us both to uniform and to disordered eating?  How can the military better address this serious issue? 
Waypoints Episode 29 (click here) –Roll with us on this one. Chris Haynie and CB Johnson, both '98, joined forces for a long talk about.,.well, we're not really sure because SOMB haven't listened to it yet. But we've been told it's interesting – and knowing both CB and Chris, we bet it is. Both men, classmates, friends, and Marine Corps infantry officers, talk about life… the Corps… and the transformation that can happen when you start questioning the life you've lived. Better than a BOGSATT, we promise!
Waypoints Episode 30 (click here) – Y'all – it's been a while. Let's just say that the chaos caught up with us a bit. But we're baaaaack! Who better to kick things off than another great '98er – Coreyanne (Rickwalt) Armstrong, prior SWO, bagpiper extraordinaire, mother of 8, and the energy behind a story that you need to hear. Join us for a listen (thank you to Corey your patience and courage!). If you want to learn more – look at Corey's work with Oxford House Building Hope (https://buildinghope.net/lend-a-helping-hand).