By CAPT Jillene Bushnell

My flight plan has changed so many times, I've stopped counting, I've become gentler on myself when these changes occur in my later years. During my four years by the bay, I thought I would be a fixed-wing, jet, test pilot like my Uncle. It's the reason I joined the Navy. Along the way, I very much enjoyed the Sailors and the air wing. I loved carrier aviation and flying as the night carrier in the second Gulf War. I thought I could leave Carrier Air Wing Three (CAG-3) unattached to transition to a new aircraft when I realized the person I always called to share my day with was a fellow CAG-3 aviator now instructing 300 miles away from my Naval Air Station.
Staring 32 in the face, I took a fix…do I traverse the path of solitary service (fun air wing antics and all) or do I choose a family? That was the simplest waypoint for me, and I jumped into motherhood without hesitation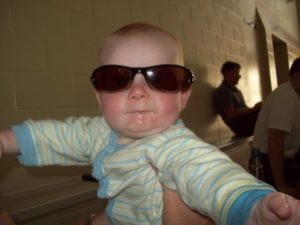 . Pregnancy and ejection seats are oil and water, so I flew the simulator and a desk for eight long months. As a Category 2 student (aviator transitioning from one airframe to the next), though, I did not win friends. I personified all the reasons why women should not fly combat aircraft (my sarcastic tone cannot be heard through my writing). My Skipper used me as FITREP fodder during a period under instruction (not normal), observing me to help his reporting senior average.
A 1 of 1 MP, two traits below his average, I would never make Aviation Department Head during my Super JO tour. I had to refile my flight plan. AEDO did not have any '98 openings during the next lateral transfer board, and I was two months' shy of my aviation commitment, crippling me from lateral transferring into a different career field. I took a fix on my career and family, decided to choose my family over aviation, and dropped a letter voluntarily separating from flying turning me into the dreaded GENAV, the Navy's fodder for all things. I took my chances at the lateral transfer board to be turned down by my requested communities. My Skipper (yup, same one) promptly provided me the opportunity to serve my country with a provisional reconstruction team in Afghanistan for 365 days plus unaccompanied front side training for 90 days.
As I prepared my Active Duty husband and eight-month old son for the inevitable, a phoenix was born from the ashes. Meteorology and Oceanography Command needed my skill set in my year group; a letter arrived advising me of this new opportunity a week prior to my deployment. The community required a 2 1/2-year master of science in meteorology and physical oceanography that I had to attain prior to a deployment as a staff oceanographer. Having already selected O4, I was time-constrained to hit all my wickets in order to make O5, but a fix was not required. I lead-turned that waypoint immediately. My son and I moved to Monterey as soon as my old community would detach me, maintaining the geographical dislocation with my Active Duty husband.  Through the recommendation of a great '98 classmate, my husband interviewed and was hired to be the Aide to the President of Naval Postgraduate School for the last two years of his shore tour, shortening our time apart to only six months.
We took a fix as a family this time. Do we remain on track for going to sea simultaneously or make a career change? I was out of options, so my husband re-filed his flight plan, becoming a Central Command (CENTCOM) Foreign Area Officer (FAO) which allowed for me to go to sea and our kids to be raised by a parent. My Superman independently raised our two toddlers while learning Modern Standard Arabic at the Defense Language Institute. I commuted on weekends when not underway, and we all survived (mostly) unscathed. His payback tour was NAVCENT, so I lobbied the FIFTHFLT Oceanographer to come work for that staff at the completion of my sea tour.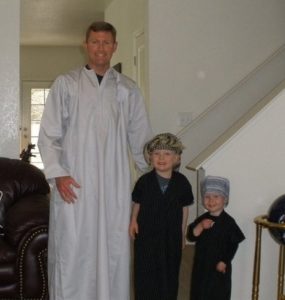 Our two years in Bahrain were good. Long days, but we were able to stagger the workdays.  I went in at 4 am and left at 4 pm; he took the kids to Child Development Center before getting to work at 0730 and departing whenever the workload would allow.  The kids were raised (mostly) by parents, and we were able to get orders together in the National Capital Region with about a 6-month time difference between our arrivals.
After our DC tours, my husband's community decided that he needed to go to an 'in-country' tour.  His fix was gutsy.  He turned down the job, got a field code 17 (FC-17) stamped on his record (there is a silver lining, I promise), and followed me to Hawaii for my command tour.  He worked for the Asia Pacific Center for Security Studies, aligned with Pacific Command (PACOM).  He was told that working in PACOM as a CENTCOM FAO was the kiss of death, but he already had a FC-17.  His skillset worked extremely well in a region where Islamic Fundamentalism is present and cultures struggle to understand how to coexist.  In fact, he did so well, he was requested to take the O6 position as the Chief of Naval Forces Division, U.S. Military Training Mission to The Kingdom of Saudi Arabia in exchange for expunging his record of the FC-17.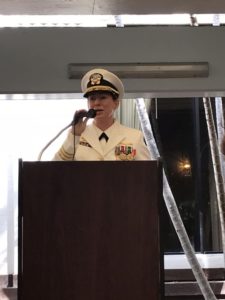 I was lucky enough to be selected CAPT while in command, and my husband will have his in-zone look next year.  Although this tour is not geographically collocated, and many people question why we would choose our career over our family, we do not view our choice as one over the other.  Our kids voluntarily vocalize that they are proud of what we do.  They have always had at least one parent with them at all times.  They are always part of our fixes, and to that point I have learned that no waypoint is entirely your own.  You are impacted by the fixes of those taken around you.  For instance, my mother-in-law needs assistance, my oldest son is a ranked swimmer, and my youngest son struggles in school – all of these play into our waypoints.  Change is inevitable.  Adapt and overcome.  You are ready, especially as a graduate of the finest institution.