by Anna Cruz '93
We were warming up for another day of "peppering" before volleyball practice.  It was plebe year, so we shared our stories of making it through come-arounds, how cutting your t-shirt halfway helped give you a less bulkier uniform "tuck", and how it was nice to not have an away match next weekend, so we'd get to watch a home football game for a change.
My classmate and teammate Courtney asked me,  "Hey, LT X watched us play and she thinks you and I would be perfect for an Army-Navy spirit spot video!  Wanna do that?!".  LT X was a Public Affairs Officer on the yard at the time.  My response —"Sure!" (Cool, that meant we didn't have to march on with the Brigade!  By the way, I had no idea yet what a spirit spot video was).
We were instructed to show up at Navy Stadium a good couple of hours before the game.  And next thing you know, LT X is doing our makeup.  "We have to accentuate your features for on camera".  I really had no idea how MUCH makeup that meant. We did all the motions and gestures as LT told us.  You'll see in the video.  Courtney's assignment is at 1:35 and mine at 2:50. Afterward, once the Brigade marched on and made it to the stands, we were given one last act.
LT:  "Now walk down in the crowd of midshipmen with big smiles, and pretend like you're chatting and having a great time.  Find a seat, and cheer for the team!"
ARE YOU KIDDING ME?  We're female plebes and have loads of cosmetics on.
Those few minutes of stares as we laughed with leisure.  I wasn't sure what made me more uncomfortable… upperclass males thinking we were being too much like women, or upperclass females thinking we were ruining it for the rest of the Sisters.  Maybe the most uncomfortable feeling was seeing clips of the video on the Jumbotron at Army-Navy '89 at Giants Stadium.  People cheered, people snickered. There, on the Jumbotron, to the tune of "She's Got the Look", were clips of males doing badass things like driving submarines to launch ballistic missiles, or funny things like chasing Whoops.  But Court had to flip her hair?  And I blinked… in slow motion?
Sure that was embarrassing, but the most uncomfortable and demeaning moment was the Monday after the video shoot, when my second class (male) stopped me in the p-way:
"Cruz, what the hell were you doing at the football game?"
"No excuse Sir"
"No, really, what was that?!"
"I'll find out Sir."
"My girlfriend doesn't wear that much makeup.  You looked like a whore!"
I spoke with Courtney recently.  She reminded me that her Monday was worse.  The upperclass females in her company tore her apart!
Bam.  That was it.  Don't do anything a "normal" woman would do.  Instead, just fit in.  Don't be a woman.  Don't do anything that someone could perceive as you asking for attention.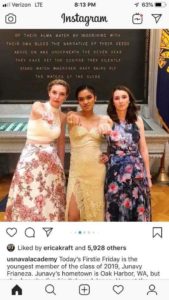 What exactly was the look we were supposed to have in that video?  It's funny because 30 years later, I'm still not sure. It looks like the video gave women three choices (in this order): stoic professional woman, fun and flippy hair girl, or slow motion blinking seductress.  I'm thankful to see that today's female midshipmen feel more empowered and have the confidence to celebrate their femininity.
To some degree, I think some of us women from the older generation think we need to continue knowing when to be "one of the guys".  Courtney has come across it still in aviation as an airline pilot.  I travel a lot for work and am constantly meeting new colleagues, struggling between being "just everyday me" or recognizing that small window you have to make a first impression that could last.
Over the years I've learned so I remind myself:
Be the woman you feel you are.
Be friendly.
Be kind.
Smile often.  It's a universal language.
When you don't feel like smiling, smile anyway because that will be a positive influence on somebody for that day. And do your best to surround yourself with those who smile.  I've found those are the things people worth knowing recognize in "your look".
Video Link:  "She's Got the Look"; Army-Navy Spirit Spot Video; Dec'89.
https://youtu.be/6jmManuLUaI
OR
https://www.facebook.com/anna.cruz.142035/videos/10205334990644497/
Anna and Courtney, Service Selection night 1993.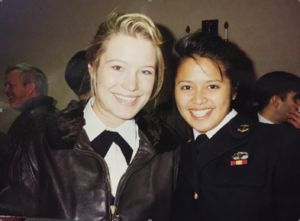 Play Like a Girl / USNA Volleyball '93 "minus 2"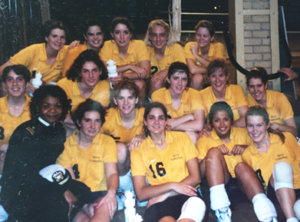 When we weren't playing volleyball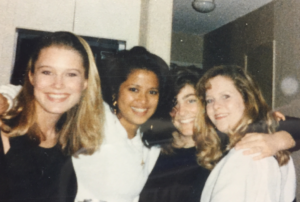 February 2017.  That coincidental day when my parents recognized Courtney as they boarded their plane.  She was the pilot for that flight, and she safely flew them from Long Island to Baltimore!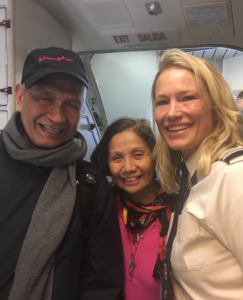 Our firstie year, then at our 20 year reunion.