By Shannon Martin McClain '98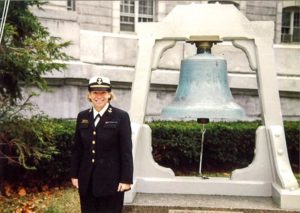 It was the fall of 1995.  I was in the Midstore surrounded by a group of men quizzing me on pro knowledge. I was peppered with questions about everything from accommodations for women to the existence of cannonballs in King Hall. I was a Youngster, but this was definitely a come-around.
I am a child of the Academy. My dad graduated in 1970 and served in the surface Navy for six years before returning to his hometown with my mom – a Philadelphia girl whom he met at a party after Army/Navy. According to my mom, when USNA opened to women in 1976, dad announced the downfall of his Alma Mater. Mom replied, "It will probably be your daughter who wants to attend the Academy." He grumbled, "You're probably right."  And she was.
I spent my childhood listening to sea stories. When dad's roommates moved cross country, they often stopped for the night and shared their stories. On vacations, we visited old roommates, company mates, and shipmates. I read Proceedings and Shipmate and sent letters to my Congressmen advocating the repeal of the Combat Exclusion Act. When dad finally accepted that I was serious about the Academy, and that there was very little he could do to stop me, he called a company mate cum USNA professor to give me a tour of the Yard. He did not want me to go, but he supported me. By I-Day, he and my mom – who always supported me – were my strongest advocates.
Back at the Midstore, it was the weekend of his 25th reunion, and his company mates wanted to see if I was officer material – and tell sea stories. Some I had never met. Others hadn't seen me since I was a child. I was nervous, but confident as I answered their questions. Once they were satisfied, they told me to carry on.  Their wives, standing in the background with mom, applauded.
These men, who began their service during the Vietnam War, probably did not start out thinking women should attend the Academy, but they came around. My dad and his friends accepted me at the Academy and mentored me throughout my career. Their wives joined my mom in providing an excellent perspective on how Navy life affects families. The professor became my sponsor dad. When I retired last summer, members of the Class of '70 were there to celebrate and to encourage my next chapter.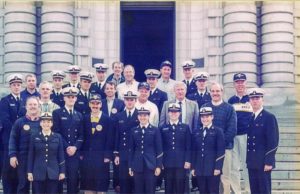 Through their mentorship, I learned what the camaraderie of midshipmen and graduates is supposed to be, and I recognize that not everyone feels so fully embraced.  So, I joined with six classmates to form the Sisterhood of Mother B.  Working with the USNAAA Women's Shared Interest Group, we provide a platform for the Naval Academy Alumnae to tell their stories through articles and podcasts. In the spirit of the mentorship I received from my father and his classmates, we hope to support our future leaders by sharing our diverse perspectives.