compiled by Shannon Martin McClain, '98
A few months ago, I reached out to the women of the Class of 1980 to ask them a series of questions and capture memories from their time at the Naval Academy, in the Fleet and beyond their service.  Fourteen women agreed to have their responses included in a series of stories by the Sisterhood of Mother B. Since the the summer is flying by, and the Class of 2019 is heading into the "real world," it seemed a good time to explore the Class of '80's experiences in the Fleet.
The respondents, all of whom served in the Navy, include aviators, an aviation engineering duty officer, a public affairs officer, officers from the Supply Corps and the Civil Engineering Corps, and General Unrestricted Line Officers.  Eight of the women retired from active or reserve service and two others served ten years or more. As we will see through this and future stories, they embody the mission of the Naval Academy.
Their recollections display a wide variety  of experiences.  Many of their challenges and and triumphs may seem familiar.  I chose to start with a difficult memory they are willing to share.  These memories fall into four categories:  home life, sexual harassment, gender discrimination, and professional setbacks.
Home Life
As happens in life, some faced challenges at home – whether the breakup of a marriage or the loss of a child. Peggy Feldmann shared her experience with miscarriage.  At 43 while serving as a Commanding Officer, she miscarried a set of twins. She focused on her job and did not take time to grieve.  Peggy's take away, "I should have listened to those who had been through the experience and taken time for myself."  One of our Silent Sisters shared the experience of dropping her first child off at the base day care.  Our sister was a 23 year old Ensign and her daughter just seven weeks old.  She wondered how she would get through the next day, the next week, the next years.  Liz Row wrote of her divorce and caring for her child born in the year prior to the divorce. "Looking back, I wouldn't want it any other way, but then I wondered if I'd get through it."
Sexual Harassment
Both Sharon Disher and Susan Cabral experienced sexual harassment from an executive officer.  "My XO . . . tried to turn the tables and get me in trouble. He didn't succeed and he got sent to a ship with predominately women which I thought was perfect!"  Susan's experience did not have quite the triumphant ending as Sharon's.  "At my second command, my XO made unprofessional advances towards me; and I felt trapped in not being able to speak out forcefully against it. I just ignored it."
Not every experience falls so neatly into the realm of sexual harassment, but it still causes discomfort.  Carol Hoffman had a boss who asked her for rides to and from work.  "My boss never tried to touch me, just the fact that he asked made me uncomfortable, but I did it.  I was not strong enough to say no.  I was careful to maintain my distance from my boss at work and develop friendships with my co-workers."
Gender Discrimination
Maureen Nunez went back to teach Professional Development at the Naval Academy in 1982 to provide women role models to the midshipmen. "I had hoped that by being an alum, my voice might be heard on issues related to the women mids.  I loved working with the young women, especially the fencing team, and I hoped that being there would give them someone to look to and say 'she did it, so how hard can it be?' Looking back, being there so soon after graduating was important, but not without its own perils.  There was still open disdain of women at the Academy, and mids would cross the street if they saw me coming so that they didn't have to salute me.  I'm sure I looked directionally- challenged, as I would zig-zag across campus crossing the street to make sure the mid would face me and have to salute.  Saluting me didn't kill any of them, to the best of my knowledge."
One of our Silent Sisters shared her frustration working for a male Army officer of the same rank who didn't like anything about her.  "He couldn't wait to ruin my career. He almost did.  I survived, but it wasn't easy."
Jill Votaw's most difficult memory was when she attrited from NFO training. "The squadron instructors were extremely anti-women in the cockpit.  One instructor, a Lieutenant, made it his mission to 'down' (fail) every female NFO student on her check ride (the final flight in a phase of training that had to be passed before going on to the next more difficult phase of training).  He didn't like me, because I was a LTJG and not afraid of him like all the new Ensigns were.  I'd been in the fleet for two years when I went into NFO training, usually students are right out of USNA/ROTC/Aviation Officer Candidate training and still think LTs are gods.  I was 'downed' on my final check ride in the Basic phase of training, and even though I was #1 in the class in ground school (the book learning portion of training) I was kicked out.  I was supposed to have a simulator and a re-fly, but I didn't get either, just got attrited. VT-10, the NFO training squadron, had a 50% attrition rate at that time, and 90% for the women.  Eventually the squadron CO and Wing Commodore were fired."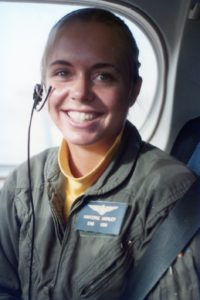 Marjorie Morley, a Navy Pilot, encountered discrimination, but with a different result.  "Dealing with the prejudiced attitudes of many male pilots I served with was always the biggest challenge.  Once most of those pilots realized I worked as hard as they did and had the same goals and objectives as them, they usually accepted me and treated me well."
Professional Setbacks
Many of the women experienced professional setbacks, whether instigated by gender discrimination or personality conflict. Barbette Lowndes related her disappointment at being passed over for Lieutenant Commander, but shared how she fought back to earn her gold oak leaf and eventually the rank of Captain.  Stef Goebel ran afoul of a boss who did not believe in her or support her. "That felt like a huge failure, and it took me a long time to work through.  Ultimately, [the experience] made me stronger."
Tina D'Ercole's difficult memory is followed by such a positive result.  "A Captain in the Navy for whom I worked refused to rank me according to performance. He said to the Commander that he would never rank a woman (1100) above the men who were "real" line officers.  This Commander took the Captain to task and almost got fired. He fought that the ranking must be by performance.  I was ranked #1 that cycle…..AND, he was not fired."
And then there's always a Janice Buxbaum in the group.  I am inspired every time I read her response to this question.  She wrote, "I have no difficult memories – I have memories of challenges I have risen to, others I have learned from, friends that I have leaned on and learned from . . . only memories of  love/friendship,  growth and purpose. For this as my truth,  I know I am lucky indeed!"
Even in their difficult memories, this first class of women offers us advice on how to do it better, on how to get through, on how to find the positive. I am thankful that these women chose to share their challenges with us.  It shows a common theme within the Sisterhood of Mother B – a need to make things better for ourselves, our peers and those who follow us. I did promise that there were good memories as well, though.  If we can learn from the difficult memories, let us be inspired by the best. Perhaps, it is best if I let their responses speak for themselves.
What is your best memory from your time in service?
Maureen Nunez – "I enjoyed being in the Maintenance Department of a Training Squadron in Pensacola and feeling as though I was contributing to the mission. I felt as though my USNA training had prepared me well, and I didn't feel nearly as much of the animosity towards women as I had at the Academy.  There was a Senior Chief in my Division who taught me a great deal about the work and never made me feel as though I didn't belong.  I will forever feel indebted to him for making me feel accepted and part of the mission."
Barbette Lowndes – "My last three tours were so much fun; I wanted to leave on a high note with a positive attitude about my time in service.  [My best memory] is my command tour in Boston immediately after 9/11 and the love and support of my husband and two daughters."
Peggy Feldmann – "[At] my first duty station, my first boss, a male LCDR, became my mentor. We accomplished some really great work, and traveled the world. I looked for a similar tour for many years, only to realize it was not the job, it was the people you were working with that mattered.  No matter where I was stationed, he (and his wife) would take me in for an advice session on life and work."
Stef Goebel. – "Perhaps my best memory on active duty was getting involved with WOPA (the Women Officers Professional Association). In Hawaii, it was a tri-service organization, and I remember being so moved to see all the career fields represented by the women members compared to how limited the opportunities were around the time I reported to USNA. I was literally moved to tears to see all the wonderful things women were doing in the Armed Forces, especially as operators, in the early 90's.  I was also moved to see them come together to network, to mentor and to support one another. I think because our time at USNA was so lonely with no upper class women, and almost no women staff and faculty, that I was especially touched by these scenes of all these very diverse women coming together and supporting one another."
Jill Votaw, who transitioned to be a PAO after attriting from flight school – "So many – My squadron tours at HS-10 and HSL-35 as a LT, serving as escort officer for the filming of TOP GUN(meeting Tom Cruise, Tony Edwards, Meg Ryan …) and STAR TREK III(meeting Leonard Nimoy, Nichelle Nichols, all the 'crew' cast) –my 5 command tours as a Reserve PAO, serving at Navy Office of Information West in Hollywood and working with the folks on the set of JAG, being recalled for 4 months to serve as the Chief of Public Affairs at U.S. Strategic Command, serving as Deputy CHINFO for a month when the Marines invaded Baghdad … just so many."
Sharon Disher  – "I loved being the second woman to command a Construction Battalion Unit.  It was my last tour of duty in the Navy and the best. I loved my Seabees!"
Tina D'Ercole  –  "A job which included fulfilling the role of Plant Representative while at the same time acting as Deputy Program Manager for a Major Program.  I experienced the most outstanding boss for whom I have ever had the privilege of working."
Carol Hoffman – I" was assigned to three ships during my 27 year career.  It is so wonderful to help the crew by serving good meals, making sure the vending machines and ships store were well stocked, having/getting the right parts for operations and maintenance, paying the crew and stocking the ATMs.  Most of all my last ship, I was the pre-commissioning Supply Officer on USS IWO JIMA (LHD 7), and one of the first officers assigned to the pre-comm unit.  The supply-engineering-aviation maintenance departments are integral to each other's success. The Chief Engineer (CHENG), AIMD Officer (Aviation Intermediate Maintenance Officer) and I teamed together from the beginning, setting the example for our departments to work together, not on a quid pro quo basis but because it was our jobs to support each other and the right thing to do.  I believe that influenced the ship's success for many years following commissioning."
A Silent Sister – "My tour in Hawaii, working with wonderful people in paradise."
Janice Buxbaum – "Being given this wisdom and being able to  incorporate it into my core is the greatest gift I was ever given."
A Silent Sister – "My best memory is standing up the first Navy security force (taking over from the Marines) at the Armed Forces Staff College.  We were a diverse group, many inexperienced (including me) and with a good MA chief and PO1, we managed to get it done.  I learned a lot, including how to work with senior enlisted experts and to lead.  We trained hard and worked hard developing the junior folks.  It was a place where I felt accepted as a professional for the most part."
Elizabeth Rowe – "My three years on the USS Samuel Gompers (AD-37) as a division officer and then a department head. I tell everyone that all the leadership I know came from those three years."
Susan Cabral – "Being a part of the ALL-Navy Sports program allowed me to meet other service personnel – and get to play volleyball!"
Marjorie Morley – "I flew EC-130s in VQ-3 at NAS Barbers Point.  We performed an electronic warfare mission over the Pacific.  Occasionally, I had the opportunity to fly into Midway Island and Wake Island, for short deployments.  Flying to these remote islands, filled with Gooney birds and beautiful beaches was an amazing opportunity."
Can you relate to any of these sentiments? Share your stories with us. We may have different viewpoints and come from different years, but I am often amazed at how much we have in common in our drive and our experiences. Thank you, women of the Class of '80 for sharing your experiences.