(It Might be the Best Thing you Do)
Janell (Peske) Hanf, '10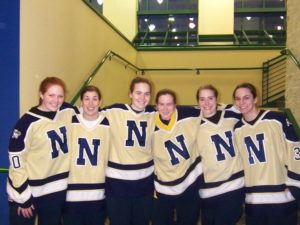 Three of us sheepishly teetered about, skating slowly around the outer edge of the ice. We figured we should get used to skating with gear on before we tried to add any other equipment to the mix.
Girls! What are you doing? Grab your sticks and get in the middle of the ice!
There was only one response…  A motivated, "Yes, Coach!"
What the heck was I thinking, that I could actually do this? It was the first day of practice. Somewhere around 6 AM. That's when the ice was open. Ice hockey was a sport I always wanted to try. It was the very first season for a Women's Ice Hockey team at the Naval Academy and they were taking anyone interested. I figured, if they needed players, and weren't even holding tryouts, I had nothing to lose, so I signed up.
As a southern California kid, I grew up mostly swimming and running. I played one season of water polo and did a couple summers of junior lifeguards. I was used to water in liquid form. Minimal gear. Individual sports. In the temperate year-round climate of California.
This was winter. This was cold. This was a team sport. This was the inaugural season of Navy Women's Ice Hockey. And I could barely even skate!
So, why did I sign up for this?
I wanted to stretch myself and have fun. Throwing myself into a brand new sport as a senior in college, especially one as complex as ice hockey was a serious challenge. I loved it. That season was awesome.
What did I love about it?
The Chill. The feeling of the cold when you step on the ice and feel the chill wash over your face. The contrast of the sweat worked up between shifts with the icy air when you watch the next lines skate. How your water bottle stays cold. The refreshing feeling when you take your sweaty gear off when the game is over.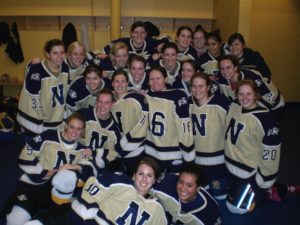 The Team. I loved being on a fierce team sport. I loved singing our alma mater, "Blue & Gold" sweating from our own match – not just as a spectator after Navy Football games.  At our senior night, we even sang the national anthem – that must've been an interesting sight for the spectators that night: a trio of hockey players, all geared up, who also happened to be singers are in the Women's Glee Club .
The Experience. If you were to look at my statistics.… yeah don't even look for them. I had no stats. I didn't even score once. I don't think I even had a single assist. But I was out there every game. I would aggressively throw myself from one corner of the ice to the other to hold my position and stay with my opponent as best I could. That season, regardless of the score, I learned and grew as an athlete and as a teammate. Taking myself so far out of my comfort zone not only made me a better midshipman, but a better warrior, more prepared for the rigors of Marine Corps Officer training in Quantico. Thanks to hockey, I wasn't intimidated by aggressive or physically demanding pugil stick bouts or ground fighting. Even if I sucked in a match and royally lost, even if I was matched against someone who was significantly out of my weight class, it was just like hockey: You're up! Get out there and go for it.
When I moved to my first duty station, the local rink's community recreation league had a coed novice team, "D league." I enjoyed those seasons and feeling the chill and the team camaraderie again.
Since my son was born, I have only played hockey once, at a Naval Academy Women's Ice Hockey alumni game three months after my son was born. It was "the mids" vs "the ma'ams" (the mids won). I love hockey, and I'm grateful for learning to pursue and commit to something that I had no background or talent in.
What did hockey teach me about handling failure or setbacks?  Find the fun. It's just like falling on the ice. It is ok to fall during a game, especially if you're playing hard. If you're scared of falling, you won't be giving your all. Trust the gear to protect you if and when you fall. it's okay if you don't skate great, just get out there and go for it. When, not if, you fall, get up as quickly as possible and keep going.
Don't settle for nervous, scared, and intimidated and wait for the perfect time to try something or put off competing until you're great.
Be aggressive, find a supportive team and coach who will give you a chance and give you the instruction and encouragement to learn as you go.
Leap off the bench. Skate your heart out, and get after it.