By Jill (Brest van Kempen) Richards '94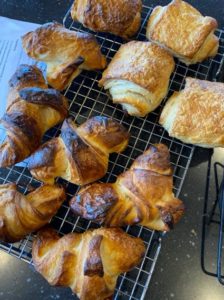 Dear Sisters,
Although I had originally hoped to contribute a post on my experiences using acupuncture to work with sexual trauma survivors at USNA in honor of April being Sexual Assault Awareness Month (which I still hope to share at some point), I have been moved to write something more general that might be of wider use as we move through the growing pandemic.  In attending USNA, we have each been called to serve in different ways, and many are wondering what they can do right now in the privacy of their own homes as we seek to "level the curve."  Instead of joining the growing population who threaten synthetic trou snapback (and, truthfully, I may or may not have used this societal time out to learn to make croissants and pain au chocolat…), I offer a different perspective to consider.
We are currently under quarantine to limit the load on our medical system to a manageable threshold to minimize the outcome casualties, not to keep us from getting this virus at all.  In fact, your operating assumption should be "It's coming for me."  It is.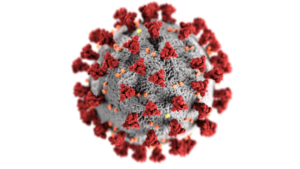 This virus does not discriminate and wants a piece of everyone. It will find you through something someone touched two days ago that showed up at your doorstep.  Or via your benevolent neighbor's cookie drop.  Or when the social distancing restrictions are relaxed. Or through your pet tiger (so far, dogs are in the clear).  Regardless of your current underlying health conditions, there are ways you can enhance your system's proficiency to improve your outcome of whatever you may face.  Improving your own body's ability to withstand any attack will then strengthen that of our local communities to bolster our nation's health and inspire global wellbeing.  It all starts with you and enhancing your own resiliency.
My favorite read on resiliency is found in HBR's 10 Best Reads on Managing Yourself.  In "How Resilience Works," Diane Coutu explores resiliency as a human characteristic that transcends all professions.  Coutu further asserts that the research on resilience have three common themes.  "Resilient people, they posit, possess three characteristics:  a staunch acceptance of reality; a deep belief, often buttressed by strongly held values, that life is meaningful; and an uncanny ability to improvise." (Coutu, 2010)  Those who embody these traits remain unflappable and can even thrive in the worst of circumstances and those who don't are more inclined to shut down in the face of adversity.
I prefer to be among the former.
To that end, I've been thinking about what reminders might be helpful for the Sisterhood of Mother B to encourage us to rely on what bonds us together to best navigate our way forward in these unprecedented times.   My perspective is unique in that in addition to the Navy's Semper Gumby training, my outlook is informed by the tenets of East Asian Medicine (EAM).  Below I share some self-care techniques from a macro perspective (a micro perspective with a focus on stress symptom management is coming!) that can serve to enhance your own resiliency.
Self-Care 101 from a Macro Perspective
A quick online search yields countless blogs and websites dedicated to taking care of yourself, which I find immediately overwhelming.  Everyone has her or his own way of managing stress and engaging in self-care, which may or may not be optimal and certainly evolves with our life experiences.  In general, as suggested by EAM theory (and Control Systems Engineering), I espouse working to maintain balance: bring good energy into your system to reduce the processing load and maximize your ability to allow this good energy to flow through you into your experiences, some of which hopefully feed your soul.  Let's break this down a little more specifically…
Bring Good Energy In – Plenty of information is available on how to eat to minimize stress on your body (The Plan by Lyn-Genet Recitas is a great resource), yet this notion goes well beyond what food and drink (and in what amounts) you choose to consume and includes what you choose to ingest intellectually.  Although it's important to make sure you are eating healthfully and drinking enough plain water (a good recommendation is to consume half your weight in pounds in ounces of water daily), as my 14-year old recently reminded me, you "can't unsee stuff."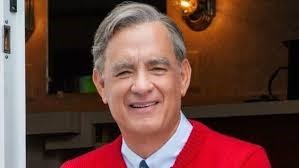 While there may be temptation to use this mandatory global time out as the opportunity to binge watch The Walking Dead or Breaking Bad, maybe watching A Beautiful Day in the Neighborhood would bring in less convoluted energy?  You also can't unread and unhear information, which means a daily check on virus updates is wise to stay informed, but hawking those stats throughout the day will only take up limited mental and spiritual real estate that will be better directed elsewhere.
Detoxify Your Life – In addition to Marie Kondo-ing your spaces (seriously, who needs to be surrounded by anything that doesn't spark joy right now?), fostering positive relationships and cultivating healthy work experiences are a place to focus instead of divesting limited resources into perpetuating toxic ones.  This pandemic might serve as a lovely impetus to shift perspectives and respectfully work through differences.  Along these lines, refrain from engaging in toxic encounters online.  There is so much societal anxiety, fear, and grief, which means plenty of people are seeking online outlets to vent.  Refrain from engaging in toxic discourse, as such exchanges serve no one well.  The bottom line: the more cleanly you live, especially now, the less of an operational "detoxification" load you place upon your system, which frees your resources up to be more flexible to better react to anything coming your way.
Let's Get Physical – Since we all learned the value of daily PT starting with an introduction to PEP, I'll only mention two of my favorite whole body exercise practices that anyone can start at any level and can be done at home.  Yoga and Tai Chi are invaluable practices that tonify the whole system and settle the mind.  Although I am a huge fan of Rodney Yee whose yoga practices can be streamed online through www.gaia.com, I haven't yet met the yogi.  My local Tai Chi school here in Bend, Oregon, is offering live free Beginning Tai Chi sessions to the public, which can be found at https://www.youtube.com/user/JianfengChen1978.  Master JianFeng Chen is a Tai Chi International Grand Champion and a brilliant teacher.  Depending on what's recommended in your local area, just getting out to walk or run can be a mental game changer.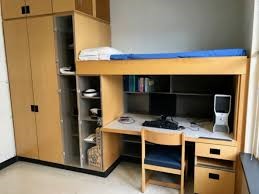 Maintain Healthy Sleep Hygiene – Your system needs good rest every night to repair herself and be prepared to tackle the next day's demands, especially now.  This concept may be difficult for Type A women who were inculcated in a Brigade culture that reveres doing more with less sleep.  I remember many a Navy one-upsmanship discussion surrounding lack of sleep that could only be trumped by a Monty Python-esque "Oh yeah, well I got up before I went to bed…"  If you are having difficulty getting good rest, in addition to the standard "no screens at bedtime" and "at least 8 hours a night" recommendations, there are some specific techniques I'll discuss next in Self-Care 101 from a Micro Perspective that may improve your sleep.
Do Something Everyday that Feeds Your Soul – If you've not read Viktor Frankl's Man's Search for Meaning, I can't recommend it more highly and think it is especially relevant now.  Dr. Frankl was a psychiatrist who was an Auschwitz survivor.  The first half of his book describes his observations in Auschwitz and the second evaluates these experiences through a psychiatric lens.  My big take-away is that people can withstand the most horrific of experiences so long as they have an identified passion for living through them.  While we are moving through uncharted territory, it is important not just to take stock of what's in your larder but also identify your passion, which will look different for everyone.  Mindfully seek ways to pursue that passion daily so that your mind and spirit stay healthy no matter how this pandemic unfolds.
Be Present – This pandemic experience is rife with a wide-range of emotions.  Amidst bouts of anxiety as we process the potential outcomes of this virus, I have felt prone to profound sadness for all the grief our world is experiencing and frustration at the inconsistent management of this virus on individual and global levels – and I am living far from NYC where matters are much, much worse. Although I am not in a viral hot zone (yet), I have had to close the doors to my practice and, like many other small business owners, am struggling with the very real concerns about making ends meet.  I am terrified that my visit with my aging parents over the holidays will be our last.  Yet, along with all of these intense emotions, I have also delighted in the joys of being around my family more and initiating longer check in FT conversations with my folks and other loved ones who are far away.  Not to mention the near giddiness with the liberty of not having to go about a normal routine and the freedom to wear my Wonder Woman Onsie as my day-time pajamas uniform (it's like a flight suit, BUT FLEECE!)…  All of these are normal emotional responses to the unknown.  Make no mistake, this experience is a traumatic one for our entire species, one that will manifest differently for each of us.  Whatever emotions do come up, refrain from counter-productive self-judgment and give yourself permission to be present in them, which will allow them to move through you so you may then move freely without their baggage.
Engage in Social Activities at a Distance – A common byproduct of social distancing is the possibility to get stuck in one's own head, which rarely serves me well.  In this time of isolation and quarantine, we are fortunate to have the ability to connect with people online.  I recommend reaching out and checking in with all your circles.  My husband's college housemates just had an online happy hour via Zoom – brilliant!  My girls are doing Irish Dance class through Zoom and I routinely do Tai Chi through my school's YouTube channel.  Ironically, the same on-line connections that have facilitated depersonalizing our relationships and celebrating artfully-contrived versions of perfection are also now enabling profound connections rooted in human kindness and unabashed vulnerability.  Choose to spread those real and very human experiences – and this is where the creativity developed in Bancroft Hall and in military service beyond the Yard come into play (motivational recons, anyone?).  Who are more prepared than we to lead our communities to do more with less in unconventional ways?  Weave your passion into your network and shine brightly to creatively spread your joy.
Permission Granted – Before I sign off for today, I want to remind you to give yourselves permission to be still.  If you struggle with giving yourself permission to spool down, I hereby grant you that permission.  Who knows how long our shelter-in-place recommendations may endure, so please don't feel compelled to tackle your TO DO list yesterday.  Be kind to, gracious and patient with yourselves as we all move into the unknown – you are so worth it.
Until the next time, take good care and be well,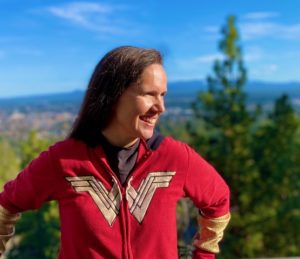 Jill (Brest van Kempen) Richards is a 1994  graduate from USNA who studied Ocean Engineering at USNA before joining VP-40 as a P-3C NFO.  Following a near-fatal car accident at the end of her JO squadron tour, she was permanently medically grounded and next flew a desk as an NROTC Instructor at University of Utah where, fascinated by the resiliency of her crumpled body, she completed her Master's degree in Bioengineering and, compelled by her Navy experience, pursued a second Bachelor's in Gender Studies.  Following her time in Utah, she took orders as an officer recruiter in Washington State, after which she studied East Asian Medicine at Middle Way Acupuncture Institute.  She graduated shortly before being recalled to active duty for three-years to teach at USNA, arriving in Maryland Board-certified as a Licensed Acupuncturist and a Diplomate with National Certification Commission for Acupuncture and Oriental Medicine (NCCAOM).  While recalled to teach Engineering at USNA, she opened a Complementary Medicine Clinic in Brigade Medical where she treated dozens of trauma survivors in addition to hundreds of others suffering in body, mind, and spirit.  After her tour at USNA, she and her husband (a VP pilot) traveled the country in a motorhome for two years studying the nation as a family and roadschooling their three kids while she completed her Doctorate in Acupuncture.  Now again a Navy Reservist, she works part-time with the Office of Naval Research (ONR) and is leading two studies with ONR Code 34 (Warfighter Performance) to evaluate acupuncture's efficacy, one treating Post-Traumatic Stress Disorder (PTSD) and the other Phantom Limb Pain (PLP).  She is the owner and Chief Catalyst at Catalysis Acupuncture in Bend, Oregon, where she and her family spend as much time celebrating the outdoors as possible.  And she may or may not have a knitting problem.