By Lauren Narducci Symmes '00
Dear Sisters,
My "pivotal moment" centers around my daughter's battle with an Eating Disorder (E.D.) Understanding that this is a very sensitive topic, and that most of us witnessed or experienced the pain and trauma of an E.D. while at USNA, I promise to write about our experiences with the utmost sensitivity. This is a story about acceptance, perseverance, and love, and I thank you for taking the time to read it.
Our oldest daughter's struggle with food and body image started in 7th Grade. Over a period of two years, she regressed from disordered eating and a distorted body image to full blown Anorexia and Body Dysmorphia. A quarter of the way through 9th Grade, we made the difficult decision to admit her to an Eating Disorder Clinic where she was an inpatient for seven weeks and an outpatient for five. She is now 18 months into recovery and, through her own hard work and force of will, is thriving.
Sending L away for treatment was THE HARDEST thing that we have ever done. She asked us to keep her absence, and the reason behind it, private. L's teachers, counselor, and principal knew about her absence, as did her local doctor, nutritionist, and therapist. Other than these individuals, only about 10 family members and close friends knew where she was and why. The people we saw and talked to had no idea that we had a child with an eating disorder, let alone a child that was in the hospital receiving treatment for one!
We worked hard to maintain a pretense of normalcy, both to preserve L's privacy, but also to create a sense of stability for our two other children. This was mentally and emotionally exhausting! I sat through class lectures and chatted with my classmates between classes like everything was okay, when in actuality I was constantly monitoring my phone for calls from the hospital. I attended PTA and HOA meetings as if all three of my kids were at home with my husband, when in reality the younger two were home with a babysitter while my husband visited our oldest at the hospital. I felt like I was playing the role of dutiful mom, attentive student, and dedicated volunteer all day long, and it wasn't until the kids were in bed at night that I could step out of character and be the worried, exhausted parent that I truly was.
Despite how difficult it was to maintain that façade; it still wasn't the hardest part. The hardest part was not knowing if everything was going to be okay. When you take your child to a typical hospital, there is a feeling of optimism and reassurance. You hear accounts of success stories and see pictures of thriving children, there are proven treatment plans with measurable results, and a doctor's bedside manner isn't critical as long he/she gives his/her patients the proper treatment. Those feelings of optimism and reassurance don't really exist in an Eating Disorder Unit at a Mental Health Facility. You see mostly sick and distressed kids with their exhausted and anxious parents, there are many different types of treatment with unquantifiable degrees of success , and if your child doesn't connect with their treatment team, it might very well lead to setbacks in their recovery. Though deep down in my heart I had hope and faith that things would be okay, there weren't any external signs to reassure me, and that was suffocating.
About a month into L's hospitalization, our little circle of friends and family "in-the-know" started to widen. It was completely inadvertent and usually involved people recognizing and expressing their concern that something was wrong. The first such instance occurred when a friend invited me over for coffee. She was worried that I was stressed and overcommitted, and I gracelessly dumped our situation into her lap. She listened to me, cried with me, and then told me about her struggle with Bulimia as a teen. Her revelation didn't change our circumstances, but it let in a little bit of light. Then came a Girl Scout outing with my youngest where a good friend (and my assistant field hockey coach) pulled me aside and said, "I don't want to pry, but I can tell that something is wrong. L didn't look well the last time that I saw her, is something going on?" The floodgates were released, but during our teary conversation, I came to find out that her niece had been hospitalized the previous year for an E.D. but had since made a strong recovery. Again, it didn't change the fact that my child still couldn't complete a meal, but it gave me a glimmer of hope. A week or two later, I was having lunch with a friend who is a dietician with E.D. treatment experience. She asked what was wrong and yet again, I couldn't hold back the tears. As I was preparing to leave, a young woman came from the adjacent table came over and said, "I'm sorry to intrude, but I couldn't help but listen to your conversation when I heard the words Sheppard Pratt. I was a patient there when I was a teenager and I just want you to know that you are doing the right thing and that everything is going to be okay." We had a brief conversation about her career as an RN and about her baby girl, and then I went to my car and sobbed. Her presence that day was a gift from above.
That evening our daughter told us that she was going to start completing her meals, and a week and a half later she came home for the first time. Though she was far from better and was still in a partial hospitalization program for 12 hours each day, we were starting to feel a bit more hopeful.
A big change in our approach to her disorder came during a family therapy session just prior to her discharge. Our therapist asked L how she was going to respond to her peers when they asked about her absence. L replied that she was going to own her disorder, embrace her recovery, and tell people where she was and why. I joked that she should just hand them a business card with all of the pertinent information on it and then walk away. She loved the idea, and that night I went home and created this: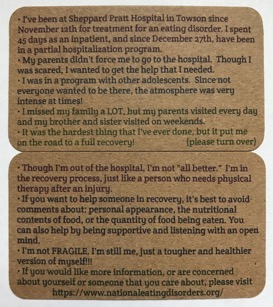 Before she returned to school, we shared this card with the treatment center staff, her local treatment team, and her teachers and counselors at school. Everyone that received one said that there was power in this card, and they were right, there is power in owning your struggle!
The day that L returned to school and distributed this card, she had three people reach out and ask her about how to get help for themselves or someone that they cared about. The day that she allowed me to post this card along with our story on Facebook, I got texts and phone calls ALL day from friends and family expressing their support, and in many cases, sharing their stories of recovery from eating disorders. By owning our struggle, we were finally getting the support that we had so desperately needed while also hopefully helping to destigmatize mental health issues.
Recovery is long, messy, and painful, but in the 18 months since her discharge from the hospital, L continues to make amazing progress. She is committed to shedding light on mental health issues and lives by the adage: "Tell the story of the mountain you climbed. Your words could become a page in someone else's survival guide." She has a very real (and sometimes raw) recovery account on Instagram where she has connected with young women from around the world, she has shared her story in several publications, and she recently published a book.
I, on the other hand, share our ups and downs to let people know that that there is no such thing as a "Pinterest Perfect" Family, and I talk about therapy to encourage others to seek help for mental health issues with the same urgency that they would for physical ones. Mostly, I just try to be candid about our family's experience. I want others to know that they are not alone, that I am here to listen, and that I can say, with certainty, that things will be okay.
A note from Lauren: I am Class of '00 married to a member of the Class of '98. We have been married for 20 years and have three children: 15, 13, and 10.  I was a stay-at-home mom for 10 years, and am now a part time work-from-home mom and college student.  I am a recovering compulsive volunteer, and when I can find some time for myself, I love to read and be outside in nature.  We love to travel and have been very fortunate enough to go on some amazing adventures as a family!